"TigerLily Feels the Big Dick Energy"
TigerLily Delivers a Petite Asian Pussy
so that our boys can get some much-needed practice. I don't think they need TOO much practice, I guess dog sex is like riding a bike. You climb on, ride like hell, and hope you don't fall off. Still, practice makes perfect…
Dangerous, the new doggy on the block, definitely needed a bit of schooling. He's young, full of seed, and ready to breed. Always ready, always keen. Schnauzers are working dogs, and like most working dogs, they take their work very seriously. Whatever that work might be. In Dangerous's case, his job is quite a nice one – loving the Ladies.
He loves his job – he's watched Uncle Bullseye performing, with much interest. He's got the hang of it now – how those Ladies 'work', and how to play with 'em. Not a Lady passes through this house without getting grabbed, and humped. Even Ladies passing by the house, are getting random snoutings from this horny doggy. We'll need to work on his social skills a bit – but he is certainly keen. And very fond of those Lady bits…
The Asian Ladies are generally quite petite. This small-ness of course extends to their petite Asian flowers. Asian Ladies are not really built for the big cock. Not without a bit of practice.
Any Lady with experience will tell you, that as alluring as the big cock is, it's not without its problems. Often, it won't all fit inside. What's the point of a big cock then, since half a big cock, is much the same size as any other cock? It's why many Ladies prefer greater thickness, over a greater length. That 'greater thickness' naturally extends to an interest in the doggy knot…
That's all relevant to man-cock – if it doesn't fit, it doesn't fit. No biggie. A dog cock though? That's a cock of a different color. The dog cock MAKES itself fit – going in small, locking itself inside, then swelling, and swelling, to full size. This can make a few problems, for the smaller Lady. If she can't get the knot out, then her vagina is a prisoner of the dog cock, for the duration. The dog is going to fill that pussy, in a way that the Lady may never have been filled before. Doggy wants this of course – a locked-up vagina, full to capacity with dog cock, makes it very easy for him to squeeze his sperm up into the Lady's womb…
For the Lady though? Being that full of dog cock, can pinch a bit. We've had Ladies yelp, and squeal. Nothing, mind, that put ANY of those Ladies off coming back to try again 🙂 Still, a Lady needs to be strong and focused, to take those bigger dog cocks. And – as you see around the site – many Ladies do, all the time, without any problems at all…
Dangerous is a BIG dog. Bigger than I expected – and he's getting bigger. Most of our Asian Ladies, take one look at his big cock hanging there and take a raincheck. It's not ideal, but we are working on it. TigerLily, our most experienced of Asian Pet Ladies, had to take him in her bum a few times, to see if she could handle him. Even that was a tight squeeze. After a few tries, the Lady plucked up the courage to take him into her vagina. She has some backbone that Lady – and with Dangerous' big wang buried inside her – it probably feels like she has 2 backbones…
After that intense knotting, the Lady needs to compose herself for a few moments. Not wishing to leave a doggy dangling, she does some gentle footplay with the still-swollen cock, and lets Dangerous shoot his juice all over her feet. The foot fans might like that bit 🙂 Then to finish off, she takes that cock in her mouth and sucks Dangerous to completion. And if there is 1 thing TigerLily knows, it's how to suck a cock…
It's a short no-frills training movie, a BIG dog, a petite Asian Lady, and some very hard knotting. Great closeups of the action, and Dangerous' big knot really giving TigerLily's flower a stiff workout. My goodness, that's a tight squeeze. The Lady takes that doggy like a pro, though.
If you like petite Asian Ladies, knotting with great BIG dog cocks, you'll enjoy this second part of TigerLily's (great big) Hard Dog Life. Have fun 🙂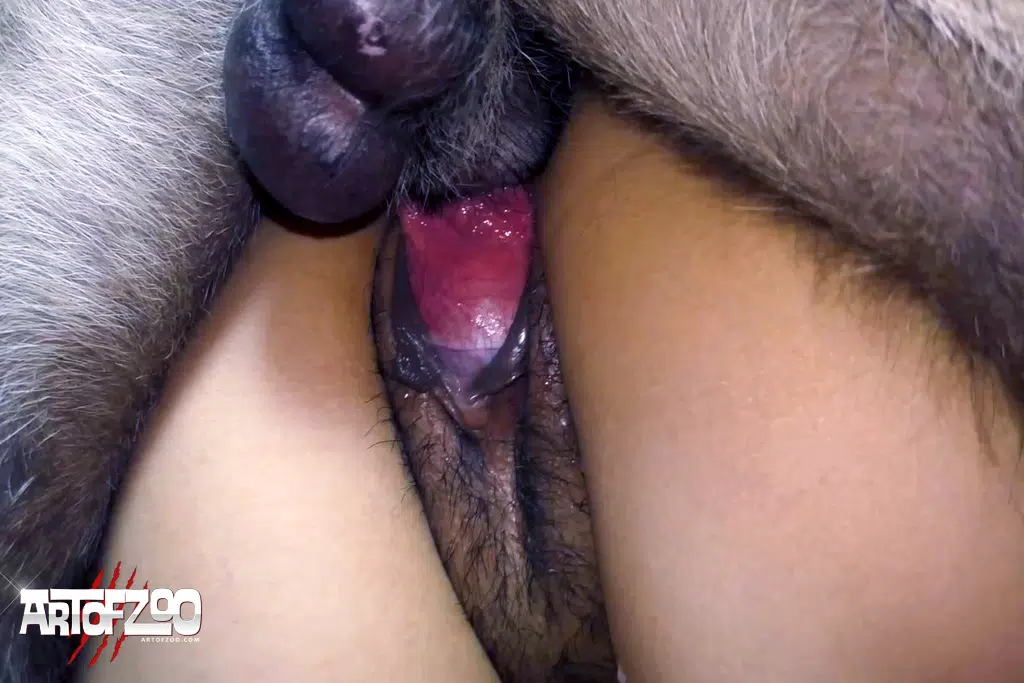 ---