"The Dog Sex Fairytale Continues..."
DogWoman Shows that Dog Cock Who's Boss!
Since the Ladys arrival, DogWomans special style of canine romance has rocked more than a few peoples worlds. We continue with our fairytale trilogy, and once again the lovely DW shows us that Her amazing looks are equaled by Her amazing passion for dog love. It's a very special Lady who devotes her beauty and feminine charms to our furry friends; opening her petals, and letting those hounds enjoy her sweet pleasures. An experienced Pet Lady, DogWoman really knows what to do with a horny hound…
International Lady of Mystery DogWoman may be Bond Girl material, but Mr Bond will have to get in line. After all, what's a Bond cock, when you got a queue of red-tipped rampant canines stretching around the block?
Now, sometimes there is some distance between sessions, and the travel can take a while. As the hours tick by, a hardcore Pet Ladys internal alarm starts buzzing. Reminding Her, that it's been some hours since the last doggy cock. Sitting within 2 feet of a dog isn't helping. Sitting that close to DogWoman is getting Bullseye a bit anxious too. When that chemistry gets a bit too overwhelming, there's nothing else to do but stop the car, and let the couple do their thing…
So, this movie was shot in the great outdoors. Not QUITE the great outdoors – it was a bit chilly outside so everyone stayed and played in the car. It's nice to think that in motorway laybys this is the kind of thing folks are doing. We are, anyway 🙂
After a splash of foreplay, DogWoman unclips the crotch of her body suit and gives us all an awesome view of that epic ass. Round, and smooth and inviting – I'm a bit of a sucker for tanlines too, and the Ladys white bits aren't hurting any…
The lovers switch into mating mode – and the magic begins to happen…
Presented with a bod like this to love, Bullseye does not wait to be asked. He is up, and mounting the Lady in a heartbeat. Paws, wrapped around that waist; eager red tip searching for the entrance to that perfect Pet Pussy. DogWoman lends a helping hand to guide him inside Her – feeling the heat of the Ladys sex around his cock tip, Bullseye sinks into Her, and the mating begins. Bullseye takes the Lady as you would expect him to, with passion and vigor. DogWoman shows Her years of doggy experience, working her flower around his pumping dog cock. It's pretty cool to see the Ladys golden locks, swaying gently in rhythm with the dogs deep thrusts…
DogWoman guides Her studs red cock tip between her hot smooth petals…
When Bullseyes dog cock finally locks up in that super-sweet Pet Pussy, DogWoman leans down and enjoys the sensations. The Lady is mindful that She is making a movie here; even so, She can't help drifting away, as She feels each squirt of pure dog juice flowing into her sex. Bullseyes balls twitch as he eagerly fills that sexy pussy with his seed. Ms. DW is easy on the eye – but filled with dog cum, the Lady looks even better 😉
Bullseyes knot fits that Pet Pussy perfectly – let the dog cum flow…
It's a decent length tie – neither dog nor Lady wanted this to be over quickly. Bullseye takes his time with the Lady, and DW willingly accepts his love. Nothing this good can last forever, of course. Eventually our passionate couple unlock. Bullseye slips his knot from DWs pleasure zone – leaving Her dripping with his creamy canine cum. That sweet nectar really does belong inside that Lady.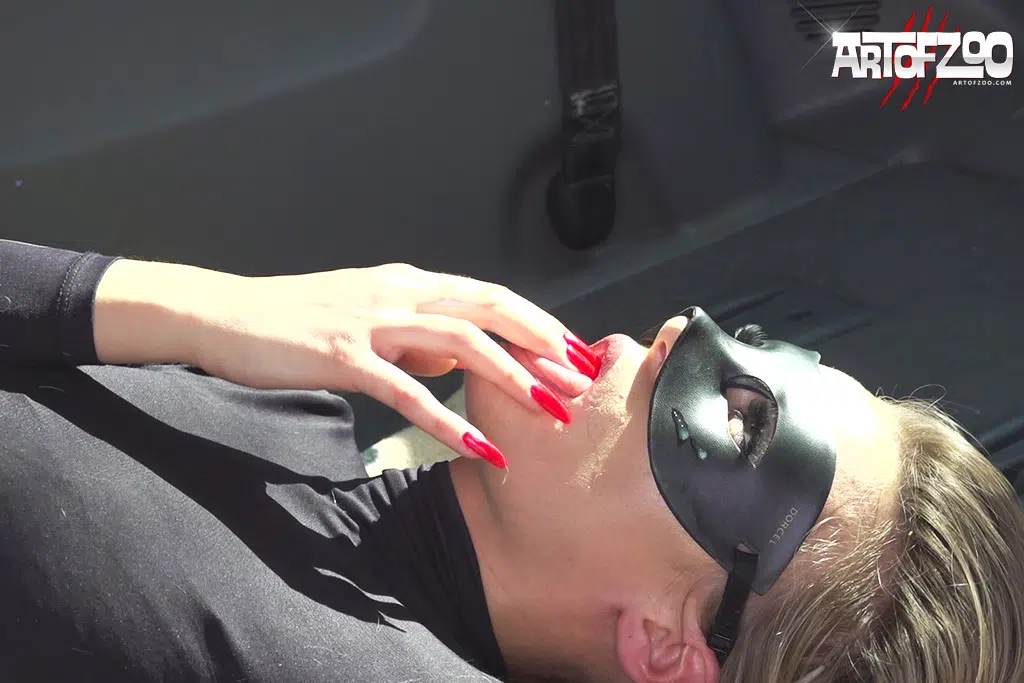 ---