"The Climax of Our Dog Fucking Fairytale…"
Pet Pleasure Specialist DogWoman Completes the Story
The Beauty and the Beasts trilogy was our first Mogul Project, with mouthwatering results. In Chapter 1, a chic DogWoman enjoyed an awesome doggy fuck with Ace. In Chapter 2, the Lady couldn't wait to feel Bullseye inside her, so D conjured up some dogsex magic en route.
In Chapter 3, the Lady feels the call of nature and takes Bullseye for a walk in the woods. All good woman / dog fairytales have some kinda wood in there somewhere. As do most stories. I expect woods will be popping up left and right, when all you chaps clap eyes on this Lady's methods…
Finding a suitable spot for playtime, D shows off her cool and sexy doggyfucking pants. Those things unzip and expose a wet flower ready to be dogged – without resorting to the 'jeans yanked round your thighs' approach. Nothing to get in the way of that perfect position. Shaving precious seconds off the time it takes before Rover is inside her. Dogsex pants eh – modern times we live in.
D unzips and shows us that lovely ass with the tan lines. The Lady certainly is very easy on the eye. Moreso, because we know what this Lady intends to do with that doggy. This Lady always lives up to her name…
D has been working her charms on Bullseye. Presented with that DogWoman ass, Bullseye is not sure whether to mount it or serenade it. Still, this Lady is made for dog play. Her vagina calls out to his dog cock, and Bullseye cannot help but take her. Bullseye eventually finds his spot and glides smoothly into D, feeling her perfect pink engulfing his cock from tip to root. The couple get down to some excellent lovemaking. D moans as Bullseye pistons into her, and dog fucks her to ecstasy…
A hard mount cuts deep. D breathes a satisfied sigh, and whispers 'good boy', as she feels Bullseye's knot locking them together. The red dog cock swells inside D's pinkness, traps her and pumps her full of his pure canine nectar. Dog cum flows from his twitching balls, all the way along his shaft, and squirts across D's cervix. Yes, D wears a womb full of dog cum with a great deal of panache.
When Bullseye regrettably withdraws, he is not fully spent. You know the drill by now, when it comes to Real Pet Ladies, and that doggy dew. D snatches the doggy cock into her mouth, and instinctively drinks down those precious squirts. DogWoman is not a Lady to let dog juice spill to the floor, when she has use for it…
At the close of the first scene, D is feeling the effects of the dog love inside her. She gives Bullseye a smooch, and tell him she loves him. Such a doggy heartbreaker that Lady – and I do like those trousers.
In scene 2, the fairytale journey comes full circle, when D returns to where her adventure began. For her final sweet dog fuck, a new boy. A big beast of a dog, hungry to love this Lady and complete her journey in strong style. DogWoman is dressed for love – and Ace has plenty of love ready for the Lady…
DogWoman in heels has to be over 6 foot 6. A magnificent specimen of Pet Ladiness. That will give you some idea of how quite large Ace is. D is not new to dog love, in fact she has been intimate with dogs so many times, the feeling of dog cock inside her is already etched on her soul. Even so, Ace means business, and this mating is going down hard. He takes D just over the edge of comfort and control, to a place that's as vulnerable as it is pure. Luckily D's dog experience kicks in, and she – just – takes – him. All of him…
Ace has a bigger cock than Bullseye. It's big, and juicy, and D just cannot resist those squirts. Feeling the adventure is coming to a close, D decides to let herself go, and really immerse herself in Ace's cock. She wants that dog cum all over her. She wants to be coated with it, inside and out. Saturated by it. She rolls it around her face, smears her lipstick. D simply does not care – she is lost in a private dog cock heaven…
DogWoman has shaped herself for the pleasure of dogs, and the end result is fantastic. The Lady really, really knows what she is doing. Bravo to DogWoman for all her great work – may she always have a dog to love her.
Thanks to everyone who supports our network by buying our movies, your help goes a long way. Special thanks to all the Moguls who helped funding the Beauty and the Beasts project. I guess we'll have to get to work planning the next Mogul Project, more on that soon. Great work everyone.
Beauty meets bestiality – what more could we ask for? Dogs satisfied. Lady satisfied. I'm confident you Petfans will be deeply satisfied too. Have fun falling in love with DogWoman, and the things she does with those dogs 🙂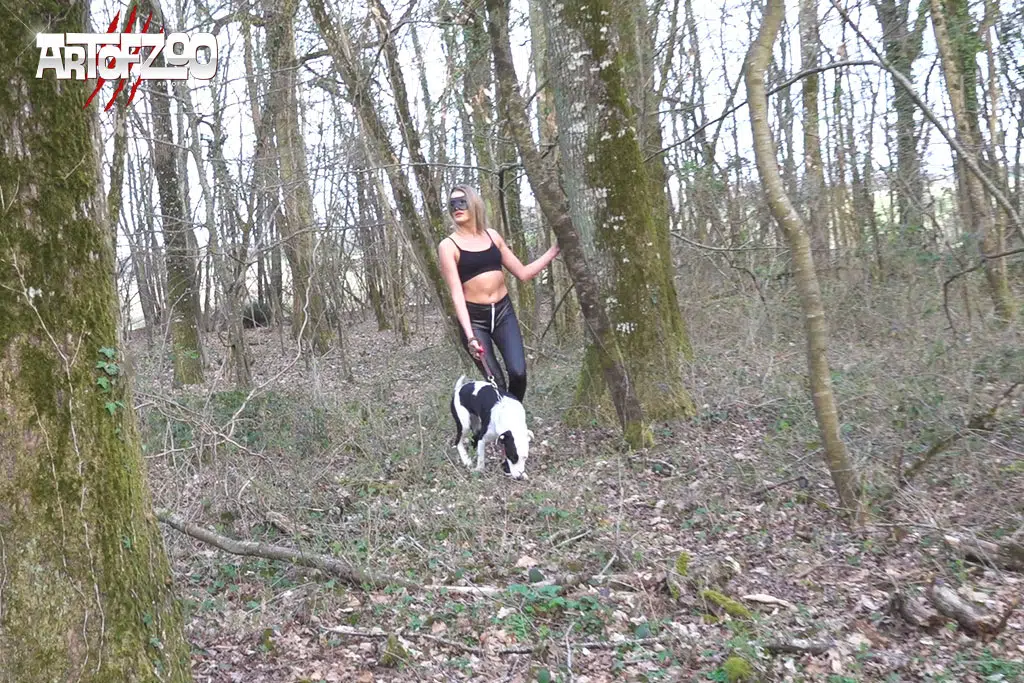 ---