"The Fairytale Comes True! – Part 1"
The AoZ Feature "Beauty and the Beasts" is finally here
Part 1 at least :). And, as you will find, some things in life are worth waiting for. The Divine DogWoman has caused quite a stir among the Animal Porn community, a Pet Lady that starts at the ground and seems to go on forever. Now, I have made it quite clear that I personally do not make a competition out of beauty. Beauty is purely subjective, and what is beautiful to one person, is the opposite to another.
However, the "real World" would like Ladies to aspire to a given aesthetic template – the nonsense of which is explored in the movie "The Neon Demon". You Ladies ignore all that bollox, you are lovely just the way you are. But still, as we broadcast our signal into The Matrix in search of minds to set free – those still stuck in The Matrix will be caught up in that fashion industry aesthetic. And so, a face those people can relate to, works heavily in our favour. Attracting folks to our Art, and our World. Where maybe just maybe, they may learn a thing or two. In that respect, the delicious DogWoman is the perfect face for the perfect time. On with the fairytale
So, the tale of Beauty and the Beast is well known. A story written in 1740 by a French Lady, Disney have been all over this tale from the get-go. But then, Disney always were quite subliminally edgy. It's a straight up story about bestiality, like so many other stories and legends about bestiality hidden in plain sight. One of these days I will compile a list of interspecies stories and legends which permeate our various cultures, to show that actually, interspecies is already widely accepted by just about everyone. They just don't know it – yet 🙂 Avatar – one of the highest grossing movies of all time – a straight up tale about Gaia and interspecies love.
On the surface, people have to frown and tut about petism – but deep down, it's part of all of us. Years ago, the National Film Theatre in London did a late night screening of "La Bete". Which I attended with my mate Pete. The place was full to capacity. We regularly went to the NFT, but we never saw a movie fill the venue like that before, or after. We almost didn't get seats for it. Fringe interest? I don't think so.
I wouldn't mind, but "La Bete" is not a particularly great movie. An attempt to explore the sexual element of the Beauty and the Beast tale, it doesn't do a great job. I think we can do better 😉
Interestingly, The Beasts name in Beauty and the Beast is – well, I'll let you look that up. A pleasant coincidence.
Now, do not step into this movie expecting plots and such. We are now starting to move into movies with storylines – but such productions are not easy and will take some time. You already know the story of Beauty and the Beast, no need to take up your time with that. If you really must have a story, here, then watch one of Disneys Beauty and the Beast movies, and flip over to our movie during the romantic scenes 😉 Disney does the story part very well; the intimate parts, well, that's our job eh.
So. When presented with an magnifique female such as this, you would be forgiven for being caught up in her breathtaking appearance, and forget that the Lady does in fact have a very, very Pet Pussy. A Pet Pussy with experience, as mentioned previously. I know some of you like movies with naked Ladies and all. I'd still encourage you, to focus on the idea that an attractive Lady, well presented in nice clothing, goes a very long way to magnify the contrast between "The Beauty", and her "inner Beast". It tells us that, no matter how proper, well presented or respectable a person may appear on the outside – beneath it all, we are, one and all, wild beasts by nature. A tiger in a tinsel collar, is still a tiger
Earl is understandably delighted to be courting this Lady. I expect he thought all his Christmases had come at once. I think we all would. When D permits him access to her flower, our Hero accepts the Ladys challenge, and does his utmost to love her right. In a heartbeat, his anxious red dog pecker, slides smoothly between the Ladys soft white petals. Dog and Woman become one, as the mating instinct has him driving his passion into our Starlets most intimate place. Her magic does it's work on his malehood, causing him to swell, and knot – coaxing his hot seed out of him, and deep into Her where it belongs…
Following several smooth mounts, and with plenty of dog sperm injected into her vagina, D dutifully turns her attentions to his swollen rocket. The Lady is experienced enough to know that each squirt belongs inside her, and not to be wasted. D sensually moves the hard dog cock between her lips, sucks and drinks thirstily. We really cannot fault this Ladys dedication and focus on taking in that dog cum, in her role as DogWoman, the Lady is an absolute pro. The dog juice flows to her, like moths to a flame.
Ah, what more can I say about this Ladys Art? Life can suck a lot of the time, for a lot of us. But knowing, out there in the world, there are these pure Pet Angels like Mistress D – knowing that can't help but make the world just that much more enticing. If you have not yet seen the great movie by Luc Besson "Angel A", do yourself a favour and have a watch. D reminds me a bit of that Angel. You'll see what I mean.
Sincere apologies to the Moguls on this movie – we hit several heavy roadblocks the past few months which set our timetable back at least 2 months. It's a drag yes, but we are hopefully back on track now. Thanks to all – mostly all 😉 – for your patience, I don't like to keep you waiting. We'll stick a little something more in the goodie bag for your troubles, this time. Next Mogul project should go a lot smoother, since we are aware of those obstacles now and know how to get around them. A great team effort for everyone involved in the production of this series of movies, a beautiful piece of work all round.
I did originally say that we would limit sale of this movie only to Members with TL1 and up. Yes I know we have some file sharing assholes lurking around. Still, I don't like to exclude people unfairly, simply coz a few can't find the brainpower to play the game properly. As such, Beauty and the Beasts is available to all, even if we will lose a few sales. Money is important yes, but the message is more important than the money.
Big thanks to everyone who continues to support and appreciate our work, our Ladies and Producers – you all rock, and we could not do any of this without you. So, please sit back, relax, and let the delightful DogWoman wash over you. Oo la la!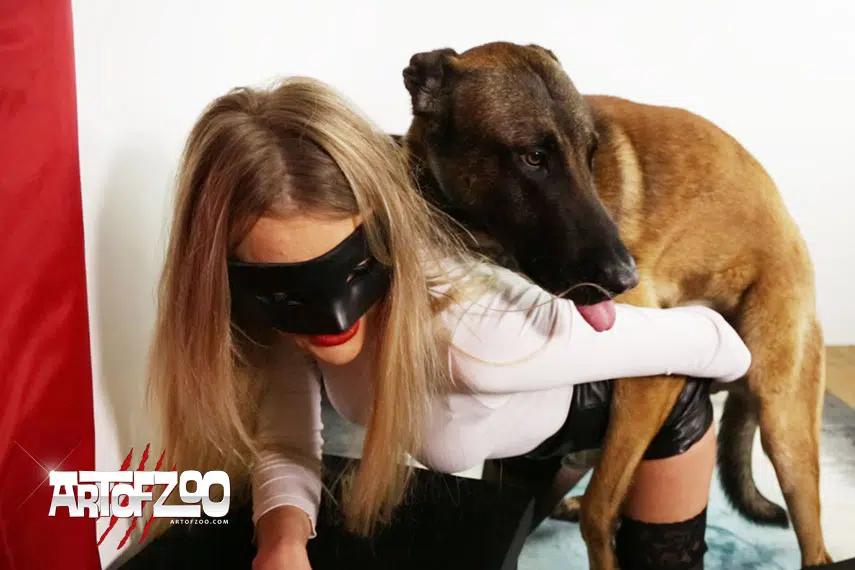 ---