ANIMAL SEX BLASTS FROM THE PAST
A question I've been asked a lot over the years is 'what is your favorite animal sex movie?' – it's a tough question to answer because there are so many superb and iconic movies out there. Some old, some newer. Since Art of Zoo pays the bills by selling movies, it's not ideal to be plugging movies from elsewhere. However, if not for some of those movies, I wouldn't be sitting here now.
When I saw my first animal sex movie, I fell head over heels in love with the whole thing. There have been some awesome Pet Models over the years, who made their art, did their thing – changed lives, then disappeared into obscurity never to be heard from again. One of my missions on our first website, Zooskool, was to bridge the gap between Models and Animalsex Fans, so that these very special Ladies could understand the affection and appreciation they generate with their passion. With that in mind, I thought it would be nice to browse through my movie folder and pick out some of the movies that really stand out. It is also an excellent excuse to be looking at animal porn on a Sunday afternoon.
1. Linda's Dogarama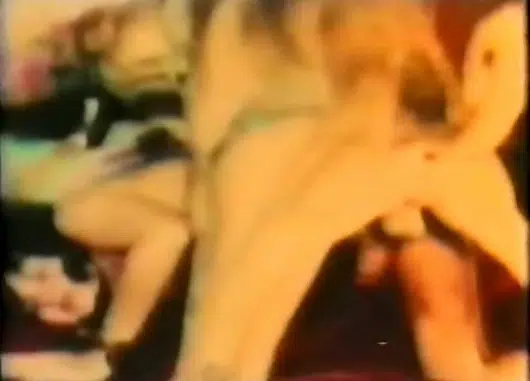 We already have a post about Linda Lovelace and Dogarama. This has to be my #1 because it was the first movie I ever saw. I watched that scratchy old VHS over and over. This animal sex movie was made back in the day when 'a movie' meant production values. And although this was essentially an amateur production made by Linda and her fella, it retains many of the wonderful performance values usual for the era, such as you would see in the Swedish Erotica series. The Models weren't serious actresses of course – but they did their best, and it had a special kind of charm. Linda – famous for her Deep Throat movie – brings her own magic to dog fucking.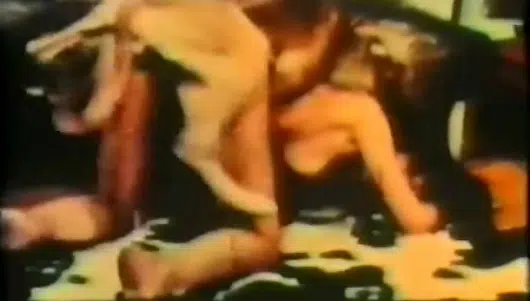 Bits to watch for: The first penetration, watch Linda's face. That is the face of a woman in rapture at the sensation of feeling a dog cock sinking into her sex. She really feels it. During this session, she takes a successful mount in missionary – usually a skill a Lady has to work up to. Seems Linda was a real natural Pet Girl. Then, a bit later, the mount on the floor where the dog is riding her like his life depended on it – Linda gasping in ecstasy as his dog cock thrusts and swells inside her pussy. A truly iconic pet movie and a must-see for all petfans.
2. Two Lesbians & A Dog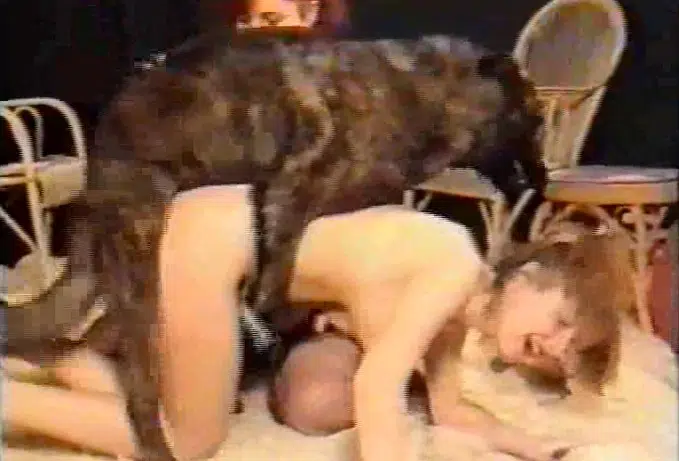 A classic from our pals over at BFI. Hans Burger is really the Granddaddy of animal porn, he was around during Bodil's time, a young man getting into the biz and selling her movies. Now, Hans often gets a bad press because – well, frankly, some of his movies leave 'a bit to be desired'. However, there is – kinda – a reason for that. For a very long time, Hans got busy buying up basically every pet movie he could get his hands on, the good, the bad, the ugly, all of it. And, fuck me he has a lot. I visited his warehouse one time, he has row after row of shelves stacked high with tapes, reels, negatives, jammed into every space, jammed down the back… I've been pushing him for years to get it organized, but… well. Anyway. Getting back on topic, 2 Les & Dog.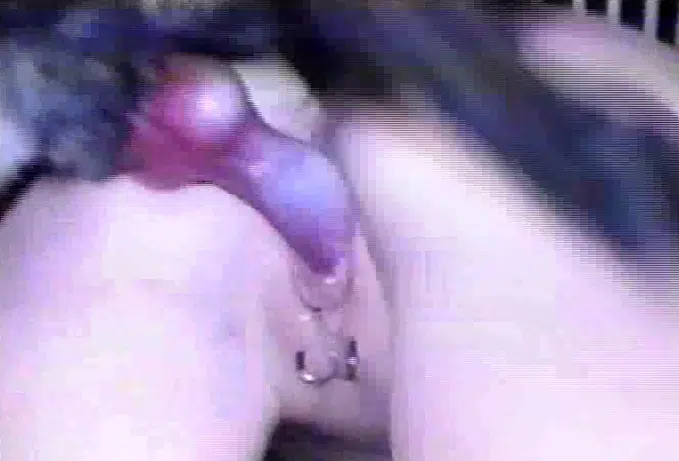 This was the first movie I saw when I got online for the first time and started snooping around for animal porn. A clip of it actually, I didn't see the full thing until much later. Again, scratchy old VHS, slightly dodgy wardrobe and setting. But my goodness, the action. I'm not sure what the premise is supposed to be, whether the larger Lady is supposed to be her Mom, or her Mistress or what (does anyone speak the lingo and have any clues?). But the object of Rover's affection is a quite lovely young Miss, with great curves, and fabulous boobs. It's great to see those boobs swinging rhythmically as Spot takes her hard, over and over. Some great shots too – from the back, undershot, from the side, from the OTHER side, from the front…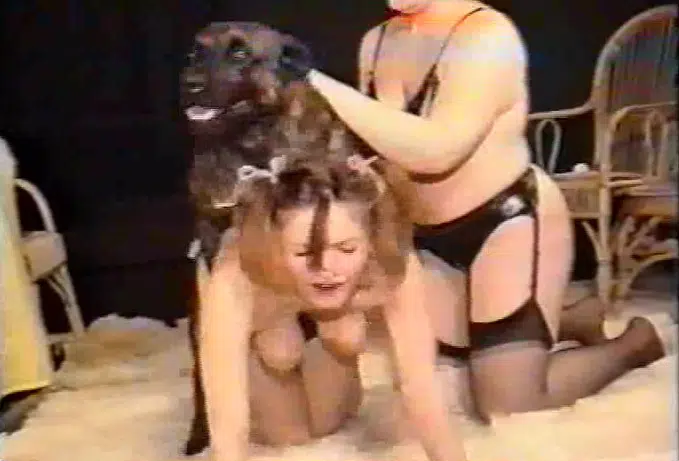 This dog is an exceptional stud, I have never yet seen a dog go this many times in any movie before or since. I have tried a load of times to count the number of mounts in this movie – there are a lot. The dog's libido seems to have no end. Which makes for some great action, and a very, very well-bred pet pussy.
Bits to watch for: At around 22 mins in, the Lady is starting to get the hang of being mounted. She offers herself up to Rover, and he takes her with a vengeance. A great shot of the action as you see the knot gradually working its way into her pussy, finally locking up hard inside her. This fella is quite well-hung and gives the Lady the full benefit of his size. The Lady wails and moans as his cock swells inside her, stretching her hard – but she doesn't quit. She lets him finish inside her, then he yanks it out roughly, leaving the Lady very well-bred – lovely!
3. Mona and Lisa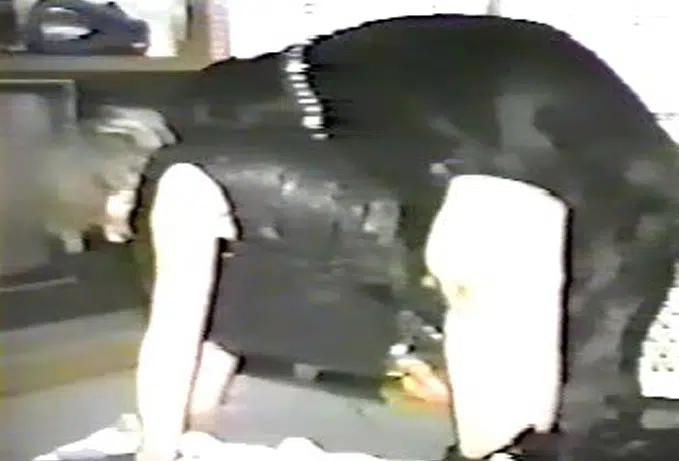 Released by Caledonian a good number of years ago now. Another scratchy VHS and quite a long movie in its entirety. Shot I believe in Nevada in the 80's or 90's, it stars 2 naughty lovelies – Mona, and of course Lisa. Honestly, I can never remember which one is which. Now, the % of action to movie length is not that great. There is a lot of not-so-interesting stuff in there and if you are like me, you will probably find yourself fast-forwarding through a lot of it. However, there are a couple of scenes in this movie which make it stand out, and why this movie made it onto this list.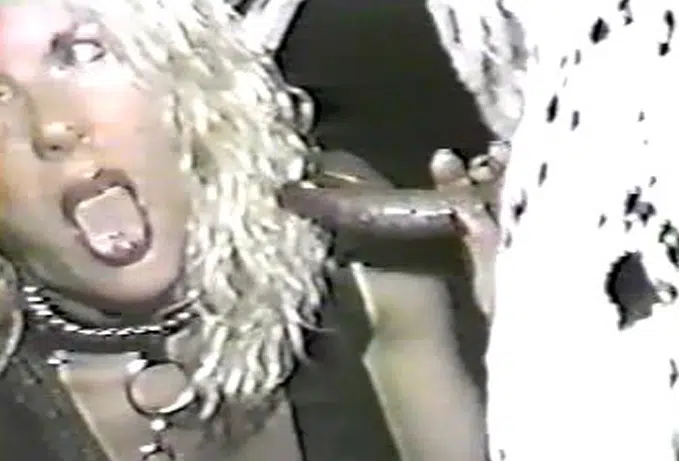 No matter how tired, how jaded, how anything I am – I honestly cannot watch the suck scene in this movie without catching serious wood. Now, there are a number of suck scenes in the movie, the one I speak of is with the dirty blonde Cougar Mona (I think), with the Dalmatian (the one in the pic above). Now, I've seen a lot of Ladies, sucking a lot of dog cock. But in this little scene, Mona takes the trophy for one of the best dog suck scenes of all time. Of the 2 Ladies, Mona is the experienced one, and Lisa is the rookie learning the ropes. Mona is keen to show Lisa – and the camera – what she can do. And boy, does she. After a not-very-successful mount from the Dalmatian (he's simply not much of a stud) – she spins around to finish him off with her mouth. This is a Lady who likes dog cock. She knows exactly what to do with a dog's cock. And she likes that she knows exactly what to do with a dog cock. She sucks on that red tool lovingly, sliding it in and out of her mouth, and drinking down every drop of cum.. She swallows with relish and makes sure we all see that she does. I really hope she is out there reading this, coz Ms, your petskills are something else…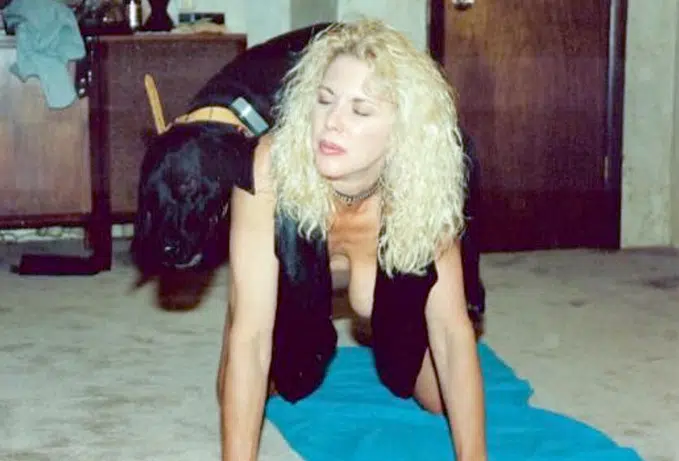 Bits to look out for: The suck scene, of course 🙂 There is an awesome scene where Lisa is mounted by the big black dog. The girl from 2LesDog takes it hard, but Lisa REALLY takes it hard. The black bird-dog is massively well-hung, and Lisa is inexperienced. He penetrates her pussy hard, driving into her cervix with such force that the Miss is forced to try to crawl away. But Rover hangs on and keeps on loving her. And Lisa dutifully takes her mating as a good pet girl should. In the not-often-seen second part of this movie, Mona also takes the big black doggy. Lisa asks her 'Doesn't it hurt?' and Mona kneels there expertly taking that dog cock and replies 'Uh… yeah, but I like the pain'. Great work.
4. Risa Murakami's "Doggy Fuck"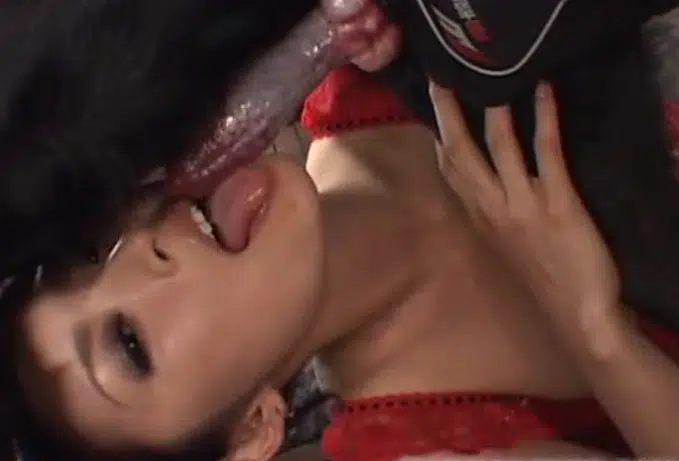 Now, the frustrating "opportunities missed" in BFI Hans' movies are what drove me onto this path. You old-school Petfans will relate to this. Hour-long movies of a dog nearly having sex with a girl but not quite. That all-important action is where it is at, the reckless loving, the passion, the virility, and the wild spirit that shows a Lady is as much a wild sexual beast as the next beast. I know you feel me, it's that one thing that brought most of you to our door. So then, GloryQuest over in Japan made a whole bunch of beautifully presented movies with FUCKING NO ACTION! AAAAAGH!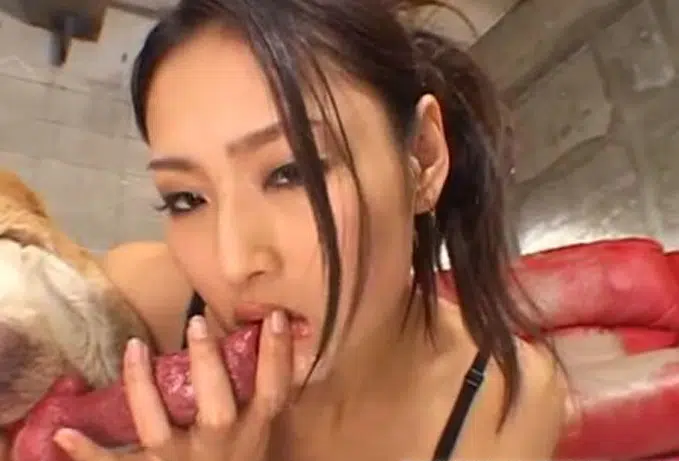 This title stars Japanese adult model Risa Murakami, who I gather is quite a big deal in Japan. Rumour has it that the 'most likely Yakuza' team behind these movies spent around 60k to get this Lady together with the dogs.
In Japanese culture, it is important to make everything beautiful. Whether that be making a cup of tea, or sucking a dog's cock. This movie gets an honorable mention because it has probably the highest production values I've seen on a dog sex movie up until fairly recently. The creative direction behind the movie, the editing, the sets – the Lady is really quite something. Suckling on those hard red dog dicks, whispering sweet nothings to the camera as she goes. Yes, Risa succeeds in making dog-sucking beautiful, and that is worth a round of applause.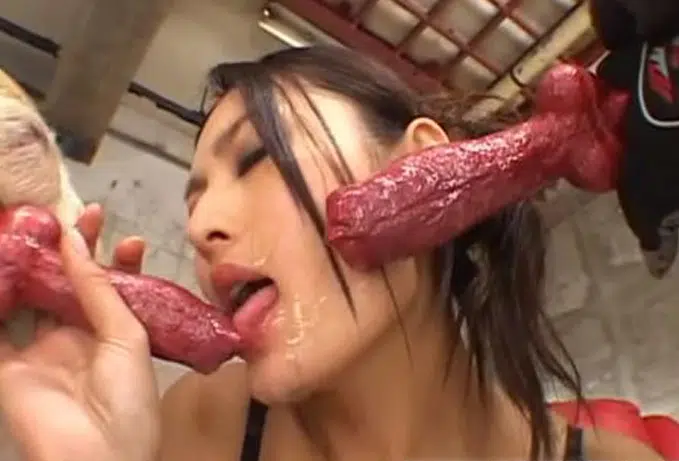 Bits to watch for: Again, the suck scenes are the real diamonds here. Strange that in Japan, you can suck a dog cock but you can't show a vagina without the pixelated censorship – but even so, there is a nice scene where Risa is riding the dog cock from behind and brings herself off on it. It might not be a real climax, but it's pretty good nonetheless. The Lady put a lot of heart into her performance here. Should we find ourselves with 60k knocking around, maybe I'll see if I can't get hold of Risa Murakami, and see if she doesn't want to have a go at doing it properly.
5. BUFFY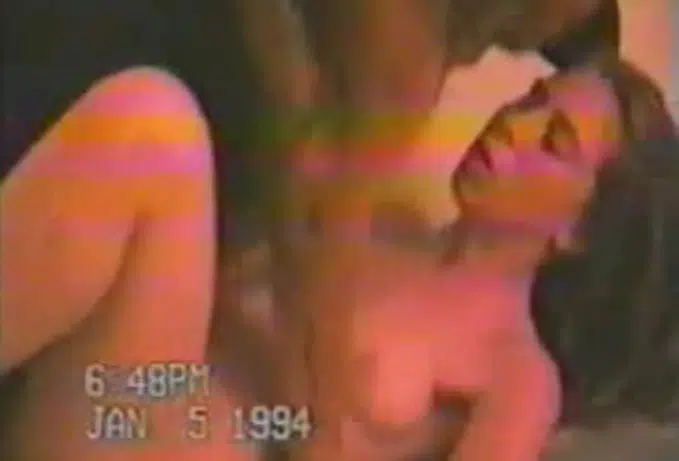 Ah, Buffy 🙂 Where would we be without the delectable Buffy? Buffy takes some living up to. Man, can this female fuck a dog.
This is another movie released by Caled. This little pocket Venus, with her husky voice, evidently knows her way around a dog. This is clearly not the Lady's first dance. Team Buffy heads up to Mexico – presumably to shoot this little gem? And in some backwater hotel they make dog sex movie history. This is as much a love story as an amateur animal sex movie. The dog knows this woman, he knows how to take her. She knows him. They are clearly lovers, as he dives between her legs, sinks his cock into her eager tight little pussy, and she whispers "I love you baby" as he jabs into her. Muddy Waters may have invented electricity, but Buffy certainly invented missionary.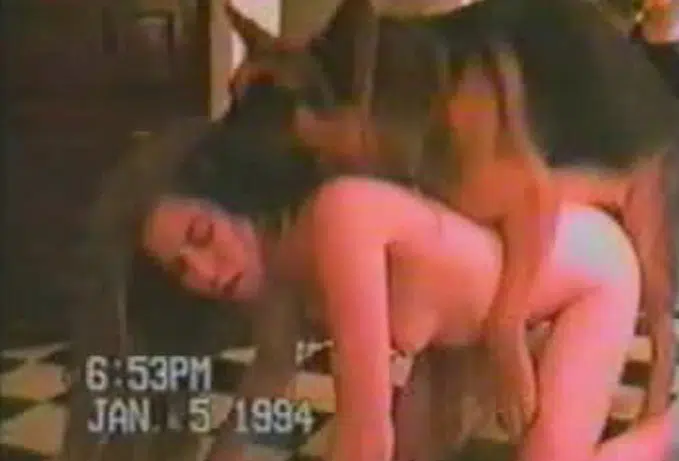 There is a lot of action in this movie. Due to the lack of close-ups, you might be tempted to imagine that some of it is not real. Well, the suck scene isn't real I'll grant you, at least the part with the fake cum.
The mounts look real to me, the Lady is feeling it, and so is her furry lover. You just need to glimpse his swollen tool after he pulls out. He fucks her missionary. Then doggystyle. Then missionary. Then again, and again. She is quite a petite Lady, and he is quite a big boy for her, which makes for quite a nice dominance theme.
You see this theme on the beach, where the dog is completely ignoring the Lady. In dog speak, this macho brute is saying "bitch, quit yapping, and let's get back to the hotel so I can fuck your pussy". Buffy really does not seem to mind taking the submissive role to this big beast, at one point whispering "Don't worry baby it'll make me your bitch" (or something like that) after he mates her. All manner of sweet sexy nothings are spoken by this naughty Lady. As animalistic as the action is, it's a very affectionate movie. As I said, the love story. It's hard to watch this movie and not feel that close relationship. Buffy is a very talented Dog Girl.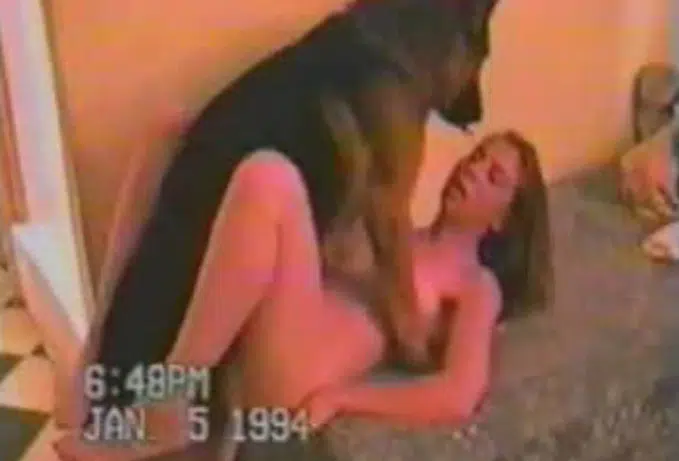 Bits to watch for: First, flick through the movie to the scene where Buffy is jerking off her Boy. To quote the Lady "that is a big fucken knot", and the rest. Get a load of the size of that thing as it's swinging, twitching, and spraying jizz over his Mama. This is a big dog. That'll give you an idea of how deep he is going into Buffy when he mounts her. I don't have a cervix, but looking at this movie makes me imagine that I did. And he is right up in there, rocking and rolling. There are too many groovy little aspects to this movie to list, the dialogue, the positions.
That's all for Part 1 Gang – Part 2 coming soon.
---