"Tiny Tink Continues Training for the Pleasure of Pets..."
That Hard Dog Training Goes On & On & On
as we saw in Strict Machine Vol. 1, TigerLily has been busy training and preparing Ladies for those hot dogsex sessions. Mistress Lily has taken Tink under Her wing and put her on the fast track to pet pleasure.
We don't see much of TigerLily during these sessions, just the occasional 'guiding hand' 🙂 These sessions focus exclusively on Tink and her dog training.
Dog slave training is great. Taking a nice Lady, getting her broken in, shaped, and molded for dog fucking. Tink is settling into her new role very nicely…
When Tink shows up for training, she is always very nicely dressed – clothes, hair and makeup immaculate. Usually smelling of CK One – Tink is quite a feminine little creature. Quite flirtatious too. That perky, bubbly little pet slave is quite hard to resist…
On Strict Machine 1, someone mentioned that, for a K9sM movie, there isn't too much D/s going on. It's a valid point, but I'll remind you that these are slave training sessions. Submission does not always require ropes, chains, or a heavy hand. No, sometimes submission is a matter of heart and mind.
Pocket Petgirl Tink was completely new to dog fucking before we invited her to play with our boys. Getting fucked by a dog? It was all a bit strange for Tink. But bit by bit – session after session, mating after mating – Tink grew accustomed to the feeling of dog cock inside her. She let go of any preconceptions and learned that her sweet little pussy is just the thing to keep those dogs happy – oo yummy…
I'll admit to more than a passing fondness for Tink's vagina. It's a very nice looking, hot, tight, sweet vagina – and all the better when she's still damp with doggy dew. Perfect for bringing those dogs to climax.
Tink has expressed a general affinity with dogs, she has 4 small dogs at home, and grew up around a lot of dogs. Given that, she says she is already part dog.
And so, the next logical step was to go all the way – heart, mind AND body – and start letting those dogs enjoy that hot little button. After all, dogs need to get off too, and she has just the thing to keep them satisfied. So, we can rest assured – even if Tink doesn't do any more sessions with us – that in future, should her dogs, or any other dogs, need that sweet sweet release – that she now knows exactly what to do to satisfy them…
Relatively, Tink's petite bod makes those doggy cocks that much larger. Over and over, Bullseye mounts and Tink takes it quite hard. The red dog cock slices in and out of that coffee-colored flower. Tink wets up nicely, easing the way for the invading rod.
The fat tight knots Bullseye buries inside that Ladybox do their part to break Tink in, and change her inside to better accommodate that special shape. It's great how vaginas change shape that way, clear evidence that a Lady's parts are naturally designed to accept penises of all shapes, sizes, and species…
There's a nice bit, during the run-up to the second penetration. Bullseye is keen to get inside Tink once again, he's humping away as only a horny dog can. TigerLily is having some trouble guiding him into that little vagina.
As he is humping at the slave – his red rocket pistoning away in TigerLily's hand – we see Tink's nice pussy; we see it thrusting hungrily, poking at her mound, slipping and slicing between her labia. Bathing her entire vagina in that dog-cock scent, before slipping inside and injecting his seed. I don't think there's any such thing as 'too much dog cock rubbing up against too much vagina'. That scent of pussy mixed with dog cock / cum, is one of the sweetest scents known to man…
At the end of the movie, there is another nice part where Tink – fully mated, with a fresh load of dog swimmers still flowing up into her – is cuddling up to Bullseye, as if to say 'thanks for teaching me '. Bullseye lays his head across Tink's neck – one of the doggy sign for dominance. You'll see that Tink, snuggled up to her lover, is quite comfortable submitting to Bullseye's dominance. The story of any pet slave is, quite literally, an under-dog story 🙂
To reiterate, these are training session videos. Plenty of good old-fashioned dog fucking, humping, and knotting action – just a little raw, production-wise. The ruff-ness is reflected in the price – plus it's Christmas and all…
Tink, and her dog slave sisters from the AoZ Kennel, are just about ready to get into the heavier BDSM dog training. So we will be running a Mogul Project around these Ladies shortly. Keep your eyes peeled for that…
In the meantime, enjoy the ongoing breaking of a dog slave as we get busy with Taming Tink 🙂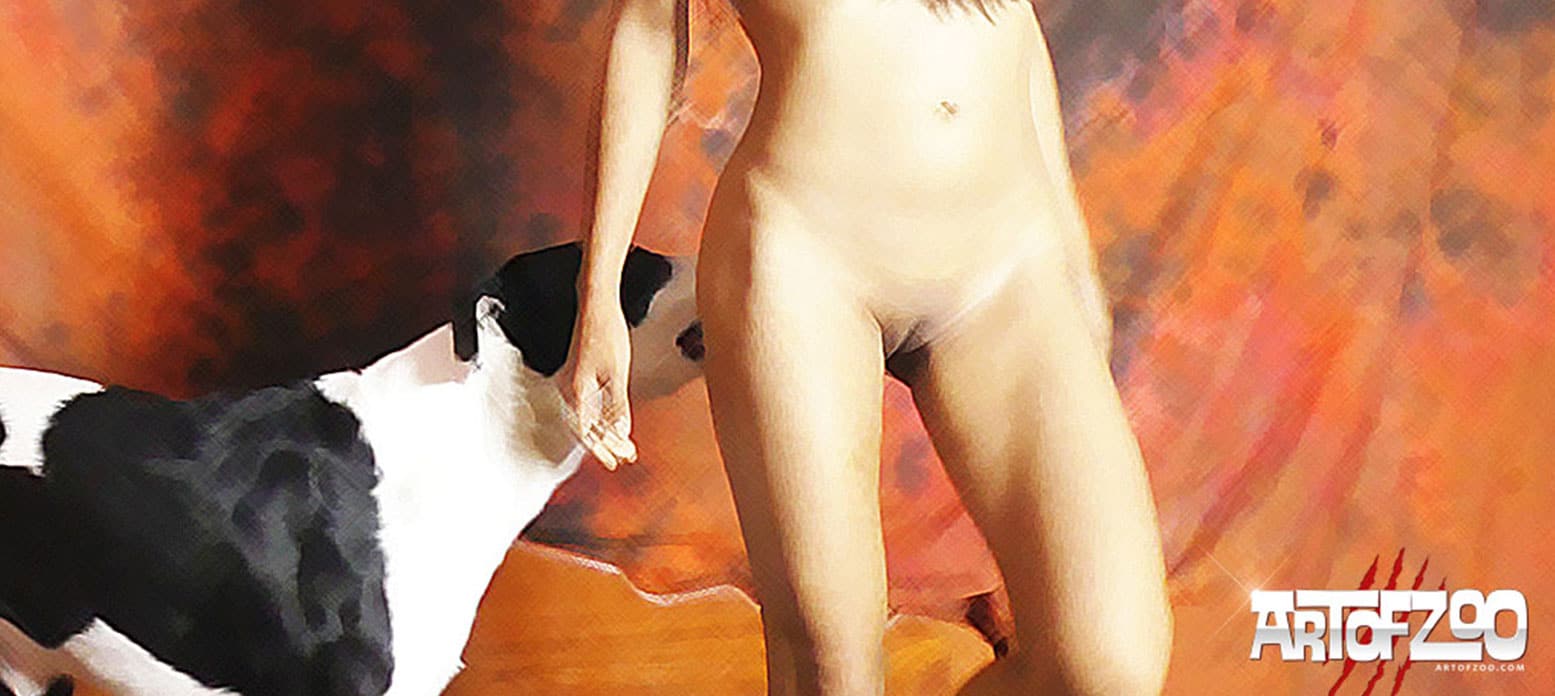 ---