Creating a Sweet Pet Pussy...
So Gang. Folks still refer back to the 'good old ZooSkool days'. There's nothing that the old ZS could do, that the new AoZ can't. That is, except for 1 thing. The Dog Fucking Training. The K9sM. Doggy Girls, and that very naughty K9 slavery. The 'Dark Side' of petlove – albeit consensual. Mr. Alwaystoobusy TheVeterinarian, and his works, are of course iconic among our community. Even the lovely CupCake couldn't resist those charms.
Well, I know it's been missing. I know many of you quite enjoy that particular training. It's a bit odd, for some to understand. But it's not really that odd. Because, if there is one thing that a human being craves, it's structure. Structure, is an Universal Law. It's the very foundation of everything. It's what keeps the stars hanging in the sky, the planets whirling – it's what allows a tree to grow upright and strong. Structure – Negentropy, now there's a word I expect most of us haven't seen before. Good that you've seen it now, because it is a very, very important word…
Structure, is what defines us as people, and not simply dribbling flailing blobs of flesh and bone living in chaos. And so, we have been quietly working towards that particular genre of movie, for a while now. M'Lady Stray was, of course, our original Doggy Girl. That was a millennia ago. The videos with the Lady, were quite special. V.2 of Dog Slavery videos would need to be something special too. We have a new concept in doggy movies coming up soon. It's taking some time to prepare. Sets, equipment. And of course, the Ladies.
As we build up to (hopefully) realizing this new and interesting twist in pet movies, everything needs to be in place. Each cog, ticking smoothly. The Strict Machine series, constitutes the numerous casting shoots/training sessions of the Ladies involved, and the dogs involved, as we work towards that goal. We will likely put a Mogul Project around it, when it begins.
So, these are the training sessions in prep. And although they are a bit rough around the edges, and not entirely polished – there is plenty going on, in these sessions. 4, maybe 5 sessions in total…
At the start of this version of AoZ, we introduced you, to us, introducing the Art of Dog Fucking to a handful of lovely Oriental Ladies. TigerLily, of course – Kana, Chevy etc. That, was some time ago.
Any mighty oak begins with a tiny acorn. Those early movies, man. We made those movies on a budget so slight, Ancient Egyptian Architects would be impressed at the tightness of it all. Some days, we hardly had money to eat. Well, any true artist suffers for his or her art. We don't care. We could all be dead tomorrow. But, the then new AoZ needed funding, and we did what we had to do. We did it, and here We are. All of us.
Those days, were ILZ's initiation into Guerilla Media. Like 'Nam, we did not have the equipment, the bullets, the bombs, the copters. What we had, was a few sticks, a few bullets, and most importantly, experience of the environment. This, was our World. Our Arena. And within that Arena, by the grace of God we got the job done…
Now. Dog fucking, for many of these Ladies, was an entirely new world, and concept. Almost all of our Ladies, had seen it, on the internet. None, had actually done it. Many, were very curious to try it. And having tried it, kinda got into it. They enjoyed being treated well, dressing up, being the Star of the moment.
If there is one thing Asian folks do very well, is doing things properly. Not all, of course – there are lazy people in Asia, same as anywhere else. But, man, you should see the Temples in Asia. All hand-carved, meticulously coated in gold leaf, top to bottom. The Artisans, are incredible. It's in their nature. As such, TigerLily, for example, really took her dog training VERY seriously. I explained, it's an Art form, and should be treated as such – with respect, and reverence. The Lady, as you've seen from her early movies, did a very, very nice job…
We all dig our beloved dog fucking. Ladies who offer their vaginas (etc), the sweet ecstasy within, to the pleasure of the humble hound. Giving dogs the opportunity, to shoot their sperm into their most intimate places. And, like most of the Pet Ladies on our network, it becomes part of their nature. Many of our Pet Ladies, would happily love dogs 24/7, if they could find enough dogs with enough stamina, to manage it.
I've said before, that the Pet Pussy is my church – and I'm not alone in feeling that way. So then, HOW, can we make a Pet Pussy, as pet as humanly possible? More dogs? Yes of course. How else? Dog slavery, of course. The K9sM game, is about training a Lady – mind, body and spirit, to be a sex toy for dogs.
It's about strict training – less about a Lady who loves dogs – and more about turning a Lady, into a dog that happens to be a Lady. It's about programming her, through correct and regular training, that her cunt is 1000% dog property. To give it, whenever the dogs want it. That, it no longer belongs to her. It belongs to the dogs. That, is the role of the k9 slave. And, applying this training, is the role of the K9 Master, or Mistress…
TigerLily already had a good amount of experience in dog fucking. The Lady, has already taught several other Ladies, how to do it, and how to do it properly. She was no longer the student – she was now, unofficially, the Mistress. So, it was time to promote Her. I had to explain to Her, what BDSM is – what Dom and sub is. How that all works.
In many Asian countries, BDSM is something they've never heard of. I had to teach all of that to TigerLily, because we had/have a bushel of new, inexperienced girls that need to be trained. And this time – not just trained in dog fucking – but trained to be dog slaves. TigerLily had to explain all this to the new Ladies – get their consent – then begin their programming. Starting with the sweet petite Tink…
Tink, is short for Tinkerbell, on account of her diminutive size. She is a mere slip of a thing – but full of spirit. She has a fantastic little ass that I can almost fit into 1 hand. And a vagina – man, that vagina. It's pristine. Almost as if it's untouched. Not only is it a very sweet looking vagina, it's tight, and the Lady knows what to do with it. I know this, coz I had a couple goes myself. 😉 I was quite surprised what this Lady could do with a cunt. Which of course, meant our boys would be enjoying her skills too, when they got to do her.
She started out with Bullseye, coz frankly, new stud Dangerous, has quite a big one. So, Bullseye had the pleasure of breaking Tink into her new training. He did her very nicely, and TigerLily made sure that Tink learned how to take a knot. If Tink was not giving up the Pet Pussy with all her heart, TigerLily would scold her. She's quite the tiger, that TigerLily 😉
You may wanna keep an eye out, when Tink is getting dog fucked – at the slaves nipples. They are plenty erect. Yes, Tink has responded very nicely to dog training, and learning to become a dog slave. Those erect nips speak 1ooo words…
During these prep sessions, we weren't only training the Ladies. Dangerous – who is Animals nephew – quickly learned that these 'Ladies' we kept talking about, were coming round for doggies to enjoy. Yes, he picked that up a hella quick 🙂 He's big, and young – full of energy, but not as experienced as his Uncle Animal. His relentless thrusting, coupled with a sizeable dog cock, was proving a challenge for every Pet Pussy we put in front of him. Even TigerLily was having trouble taking him in Her pussy.
But, he needed training, so TigerLily let him practice on her ass, instead. She could just about fit him, in there. Knot, and all. So in this movie, we have Tink learning to fuck with dogs; and we have Dangerous, learning to fuck with Ladies. My big fella, is now a fucken sex machine. ANY Lady setting foot in this house, immediately has him wrapped around her waist. They can hardly get to the bathroom, without big hungry Dangerous hanging onto her hips like a drowning man. He really, really loves those Ladies. Which is great, coz there's gonna be a whole harem of Ladies in this chaps future…
By the looks of things, the second TigerLily session, she didn't quite manage to get the knot in. But don't worry, anal fans (who have been hassling us quite a lot lately mentioning no names) 😉 – will not be disappointed.
TigerLily concludes, by sucking on that big dog dick, and reminding Herself what that sweet doggy juice tastes like. As a K9 Mistress in training, She's doing a great job. And it's just the beginning. She's already training another 3 Ladies. TigerLily's conveyor belt, churning out dog slaves, IS the Strict Machine.
So – sit back, relax, and enjoy the smooth whirring and buzzing, of the machine in action. Who knows – some of you Ladies out there, might find yourself caught up in the machine too. You have been warned 😉 Have fun, viewing 'the Rise of the Machine', and it's component parts. And, more of that fun, soon to come…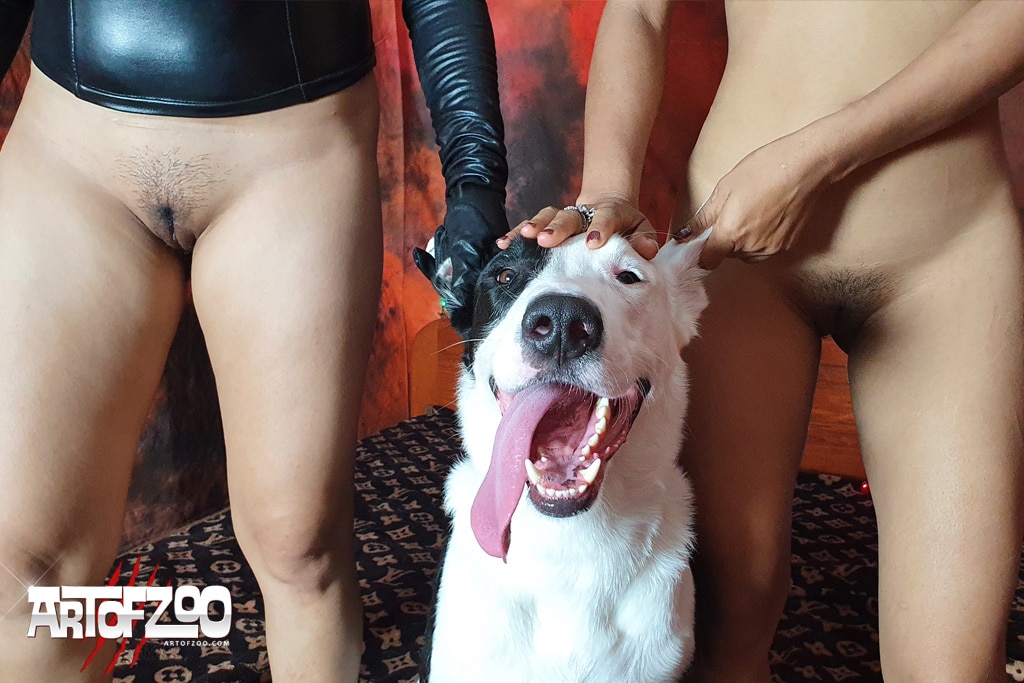 ---