Sabine is quite Wow
Our man Mr. Bond would agree – with those big Russian wolf eyes, and an irresistible smile. Well, irresistible to me anyway – Sabine has those slightly protruding incisors, like a young Patricia Arquette, which give the Lady an even more wolfish vibe. I don't know why, but I find those teeth extremely attractive, just one of my obscure Lady fetishes. How about you?
Sabine is no stranger to erotic Modeling. The Lady may – or may not – be a mainstream performer. As such, she may – or may not – have all those sexy moves to entice us. And She certainly is enticing.
The movie begins with Sabine posing and stripping on some public stairs. We get a first look at this Lady's treasures, She is very easy on the eye. Being – perhaps – a mainstream Model, Sabine is accustomed to some hardcore-ish pleasures. Lately, a few of our more regular Patrons have been requesting more anal petfun. Well, Sabine (maybe) has plenty of experience in this kind of pleasure. After all – after being manhandled by well-hung Gents – dog fucking with a little chap like Tango should be no problem at all for the Lady. Right?
Sabine starts out by prepping 'Door 2' with an inflatable plug. Popping that thing in and out of her tight bum, loosening up for the dog fun to come. She then joins Tango on the couch and shows him that Lady stuff. Sadly I didn't get a good screenshot of it, but watch in the movie as Sabine gives Tango a glimpse of joys to come. He is hypnotized by this Lady, almost to the point of panic, it seems. A look of 'Jesus Christ!'. He seems to be concerned that A. this is possibly a dream, or, B. that maybe the Lady wandered into the wrong room? And that he should apply all possible efforts to seducing this Lady before she realizes her mistake? Or perhaps neither of those – he may just be fully focused and fully driven to do Sabine, and we can't really blame him. Sabine is quite pleased that he is pleased, and flashes him that great smile…
The couple gets to coupling – with some difficulty, but eventually, Tango gets inside Sabine and shows the Lady what dog fucking is all about. There are a few mounts, and in places, Sabine takes it quite hard. Tango is really putting the moves on this Lady. It's important to remember, that most real Pet Girls are drawn to dog love because it's very real, and kinda animalistic. You get scratched. You get poked hard in the wrong place. You're dealing with knots that lock your parts onto a dog. It's important to remember, that pain is the best Teacher. And what doesn't kill us, makes us stronger. Sabine just broke through into dog fucking – the Lady is stronger already 😉
Eventually, Tango buries his knot in Sabine. It's a very tight fit. You can see the look of surprise on the Lady's face, above – it's not quite what She was expecting. Tango swells inside Sabine until she is full of dog cock. Our Hero commences to filling the Lady – squirt after squirt – with that good juice…
Of course, what goes in must come out. In the first scene, Sabine manages to pop Tango's knot out without too much effort. The dog sperm leaks out of the Lady as her lover departs…
Sabine returns for a second scene. This time, completely naked, which should keep you 'completely naked' fans happy 🙂 Again, Tango takes Sabine's ass – and, again, he plants a good knot in the Lady.
This time, Tango is very excited and showing no signs of subsiding. Ultimately, that knot slips out of Sabine, and it's slightly more than the Lady can handle. Poor Sabine is left yelping and clutching her sore bum, and riding it out. Well, the course of true love never did run entirely smoothly! Sabine works through the minor case of 'knot tweak' in good spirits. Those well-hung Gents, nor inflatable plugs, are a match for pocket champion Tango evidently…
Sabine is a professional, and a little tweak isn't going to put Her off Her dance. To soothe any remaining pangs in her bum, she hops on top of Tango and slides his still-erect dog cock back inside Her. That smooth flesh, and those cool wet squirts of dog seed, easing the discomfort as Sabine slides up and down on his red rocket.
Both scenes end with a kind of oral scene – Sabine licks around Tango's sheath and red tip. I'm thinking that maybe the riding scene cut into the available erectness? Well, whatever the reason, next time, hopefully, we can organize a big fat hard dog cock for the Lady to suck on 🙂
It's a nice movie – it's not 100% perfect (but oftentimes you all surprise us with what you like, so you might disagree). One of the reasons we don't make a habit of working with mainstream Ladies is because the mainstream does things one way, and we do them another way. When a Lady is mostly inexperienced in erotic performance, She is a white canvas and it's a lot easier for Her to pick up the subtle tips and tricks we need for our movies.
Anyway, Sabine naturally brought her mainstream experience to a doggy movie – it's nice to see, but it's not an entirely good match. She was having a bit of trouble getting the hang of a doggy mount – the general timing of a doggy movie is different than with guys (hence the suck scene). Not to mention, it's with a doggy. Making a movie with a dog, is a horse of an entirely different colour. I'm not even sure it's a horse. It's like porn – but Stronger.
The very pedantic petfans who notice this kind of stuff will see what I mean. Sabine is a dancer, and of course, would like to show us her dance. With a bit of coaching and a few tweaks, Her dance becomes Our dance – which I think will be quite something to see.
It's not to discredit the Lady at all, Sabine puts in full effort throughout. And of course, handles that little knot-tweak with some style 🙂  A great looking Lady, 2 anal knots, and quite long. The foreplay/stripping scene at the beginning is very nice, some of you have been asking for more of that.
The good news is, Sabine has contacted us and expressed a definite interest in exploring petlove a bit further. So I very much hope this will not be the last we hear from Sabine. And here's hoping her adventures in petlove so far, have only made Her stronger. Have fun 🙂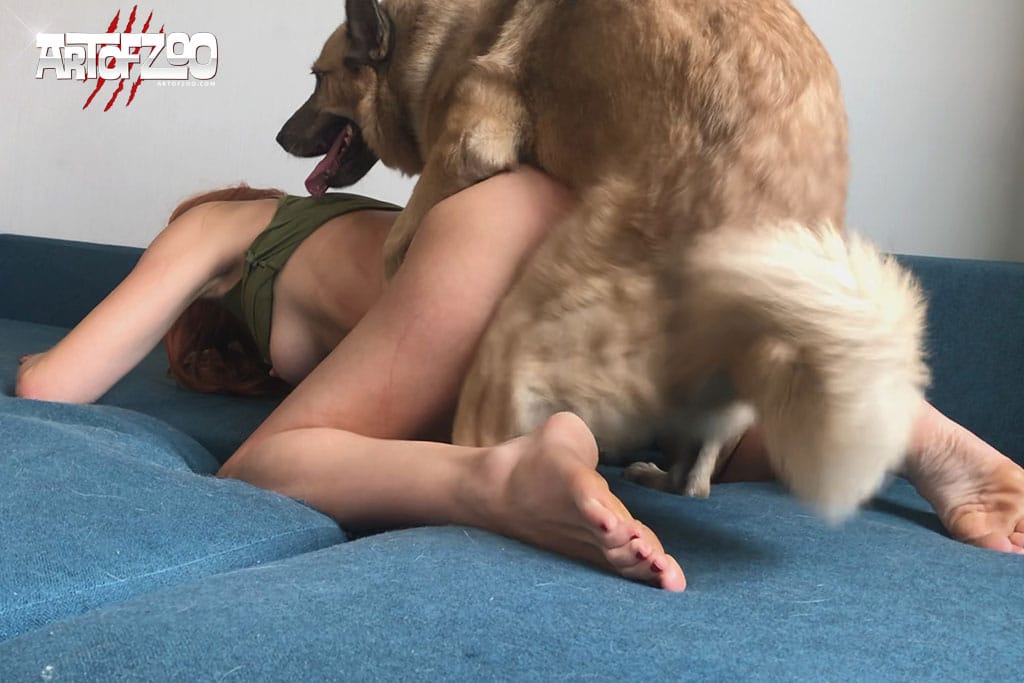 ---