Doggy Pushes
All The Right Buttons
Say Hi! to Sugar...
You know that song: Sweets for my sweet, sugar for my honey? Well, this Sugar definitely has a honey with big Doggy Dick Energy and he's allowed to have a go at that sweet sweet pet pussy in AoZ's On the Button.
We start our exploration of Sugar's delectable South American nubile 19 year old body in the first scene, where we see her getting herself excited with a pink dildo and having her own way with her self and her perfect pert boobs.
As she starts rubbing one out and spreading those gorgeous legs for us, we get a close up of her pristine pet pussy and can tell by the ease those fingers and afterwards that transparant pink dildo slip in, that Sugar is ready for some sweet lovin'. Lots of sweet lovin'.
The contrast of that pink jelly like dildo and her light chocolate shaved pussy is mesmerizing. I'm getting a craving writing this. And I'm not the only one, cause hidden in the corner of the shot, suddenly Salavas, a beautiful Rottweiler with matching pink collar, jumps up to the bed.
Despite it being this pairs' first deep dive into movie making, we can definitely tell that both of them know the drill. Sugar knows how to entice Salavas a treat by playing hard to get and only presenting her precious goods for display and a lot of licking, before allowing our furry James Bond to push his Glock in, for that luscious lock we all crave.
Salavas definitely wants to fill that empty yet hungry hole with his doggy meat stick and complement this fusion cooking experiment. Rottweilers are german right? So it'd be like putting a hot dog sausage between a set of buns and topping it with sauerkraut I guess. And well, these buns being South American, know about anacondas. So this anaconda is definitely getting it's buns, from this hun. I forgot where to put the sauerkraut. Who cares about the sauerkraut anyway at this point. Leave the fusion cooking. And look at what's cooking on that bed. It's hot!
Salavas – unlike Jeff Bezos – won't be denied his Astronaughty badge – or is it AstroKnotty badge? – when he hits the outer barrier of space and prepares for lift off. He whispers Sugar all kinds of promises in her ears – things we can only guess at of course, cause who knows what goes on in his doggy mind, now that he's enthralled by that pet pussy. If I were there, I'd probably already have promised Sugar my firstborn and all the student debt she's willing to sign on for.
It's only at this point in the movie that I notice that Sugar seemingly expecting massive loads of doggy love juice has prepared her bed with a huge plastic liner, which finally explains the crackling I heard earlier. It's like she's sitting on a huge candy wrapper. She allows Salavas to keep gettings sniffs and licks in. He's nearly ready to actually penetrate, but his mounting angle isn't at the correct hole yet, so she realigns and keeps his interests piqued.
With a single goal on his mind – earning his AstroKnot Wings – Salavas is ready for take off and starts the count down. 5, 4, 3, 2, 1 → Boosters engaged, balls filled to the brim, we have lift off. Houston, we haven't got a problem, cause this doggy love rocket is going places. Fast. To explore the depths where no doggy love rocket has ever gone before.
It starts with the tip just visibile, to suddenly going well over 88 MPH, stroking furiously on all cilinders, and we can see Salavas' knot entering Sugar's pristine hole, where only minutes before a see through pink jelly like dildo did some exploratory pokes, now a furious, definitely not see-through massive Rottweiler cock is leaving it's mark. We see massive amounts of pre-cum spraying forth.
Our first forray into Sugar's inner space was a succes. Salavas has equaled Laika's achievement, being the first dog in space, or in this case, Sugar's inner space. And unlike Laika, he does re-enter earth's atmosphere and his doggy dick needs to be caught and reinserted by a helper. Salavas doesn't seems to mind as the helper is proficient and his erection doesn't deflate. As he's depositing his precious cargo, Sugar does her utmost to enjoy that throbbing cock inside her.
As Sugar needed some much needed calories, she decides to suck out the precious doggy love juice instead of letting it go to waste on that crackling bed liner. Salavas is happy his love rocket is getting all this lovin' so he's happy to deposit all that K9 sperm deep into that throat. I do need to make a note that Sugar is a messy eater. There's sperm and saliva dripping all over perhaps that bed liner wasn't such a bad idea anyway. Someone needs to go there and lick that clean. I volunteer as a tribute!
Salavas unfortunately beats me to the punch and is allowed to lick that freshly pollinated pet pussy clean. He is slightly distracted by his erect dick still spewing forth jets and jets of puppy batter in many mid-orgasmic regurgitations. Once you launch a rocket, you can't press a button to engage the brakes. Sugar tries to get Salavas to jump up, but even with the help of the assistant in the room, that dog is not ready for another docking manouver. Or rather a dogging manouver. The flesh is willing, but rockhard still Lady. It needs a minute. We can tell Sugar is a novice as she's expecting her lover to ready to go at a moments notice, but as most of us know, with age also comes refractory periods between erections. Give it time Lady. It'll be ready again in 5 minutes.
Sugar presents her stuff to Salavas and he's happy to give her some much needed release through his tongue as Sugar is still slightly desperate to achieve her own orgasm. Get your furry butt over here and lick my pussy, my boobs, anything, everything. We can see the need in Sugar's eyes and body and Salavas is ready to help himself to those luscious boobs. He tries to chomp down on them lovingly like a puppy and then licks the gates to nirvana. Sugar rubs her nipples in her need to get off finally and says goodbye to Salavas and us.
I don't know what happened next, perhaps we'll find out in their next movie.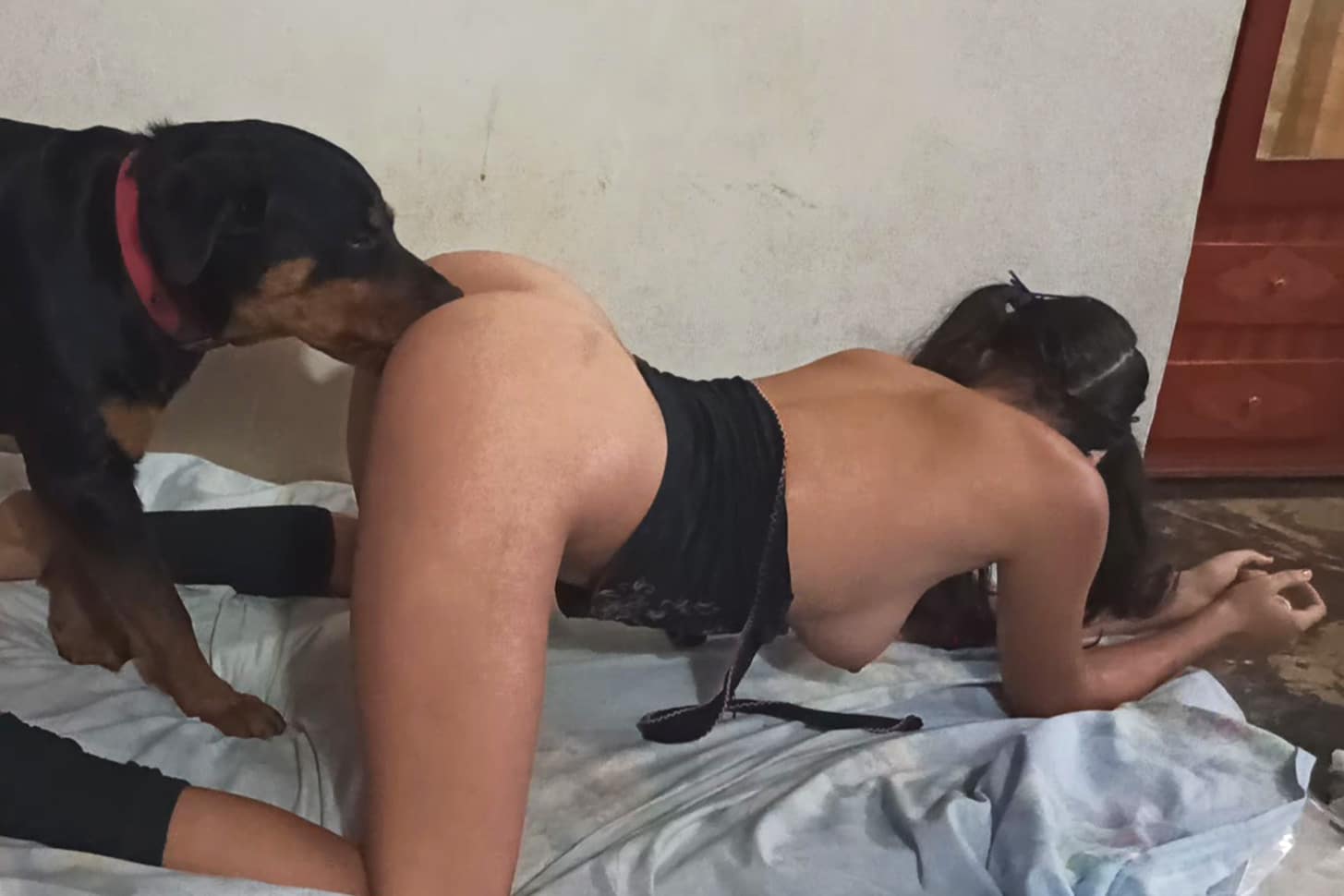 ---