Return of The ZuStar!
We've seen Zumi as a dog sex newbie, in Try Mine. We've seen the Lady come back for a second helping of dog fucking, in Pump It. This is Zumi's third installment, and the Lady is no longer a rookie. My goodness no, the Lady means business in this most erotic offering.
It starts out with Zumi doing a nice strip for us; showing us that hot body, and what She has in store for lucky Tango. She really does have an awesome Pet Pussy, and those big brown eyes – like '2 limpid pools of concentrated dog lust'. Yes, I do believe the Lady is getting into this dog thing.
Zumi is no stranger to the knot by now. That slab of swollen dog-cock can be a tight squeeze inside even the most experienced vaginas. The Lady gets to work preparing her doggybox for the knot to cum – working a big dildo in, and out. We can tell Zumi is hot for the main course, the Lady is absolutely DRIPPING wet. Those Lady juices are literally pouring out of Zumi's flower – after Her previous doggy sessions, that is a flower with a real taste for the upcoming fun. Zumi is fair smoldering for the doggy love…
Enter Tango – a hound who knows exactly what Zumi can do with a red rocket. He's keen, and we can see why. He simply cannot wait to mate with this hot female. Zumi is very ready – in a heartbeat, doggy is buried balls-deep in that perfectly formed vagina, and enjoys the Lady's pleasures. It's quite difficult to see who's cream is leaking down over Her mound – Tango's, Hers, or perhaps a cocktail of both? Would that make it a 'White Russian'? 🙂
Those doggy claws are tough going for Zumi's bare waist, particularly when Tango is this keen. Still, what's a few lovescratches between a Lady and her canine lover? My goodness, he is really working the Lady hard. Zumi can't disguise how hot She is for doggy right now – those erect nips tell all. It's not the cold either – you'll see the heat generated between the lovers is causing Zumi to perspire somewhat. The Lady is glistening with love, and it's quite horny to see…
Whichever way you look at it, sex is essentially a violent act. All the fluffy romantic Christmas movies aside, it seems that what a Lady wants, is to be taken, and vigorously (by the lover of Her choice naturally). I've yet to hear any Lady, anywhere, say 'softer… gentler… do me like a dandelion… oh that's so fucking hot!'.
No, it's usually 'Harder… HARDER… do me 'til I can barely walk – and break out the dildo and dog while you're at it!' A vigorous poking at a cervix will generally bring a Lady to climax. Hey, I don't make the rules. Those Ladies are just so primal and naughty. Am I wrong Ladies? 🙂
I believe it's that wild, uninhibited sex that attracts so many Ladies to dog fucking in the first place. A dog might love you dearly, but when it comes to sex, they are not known for being romantic. They see a vagina – they bury themselves to the hilt in said vagina, and have at it. No head games, no baggage – just hard sex. Zumi is hot, and wet, prepped with the dildo, and it's not Her first time… still, that knot is a real tight squeeze. Zumi is really feeling it today. She even sheds a few tears at one point – now She knows how those female dogs feel when they are hung up and squealing on the business end of a knotted dog cock!
Still, the Lady is a true professional. Despite any 'knot pinch', She lets Tango finish his cum inside Her, then pops his swollen knot out when he's finished. We can see Zumi is not too shaken by the hard knotting – She is quick to reach down and catch all that creamy dog cum running out of her freshly-loved Pet Pussy. She licks the dreamy cream off Her fingers while looking into the camera, a very nice touch.
Zumi then slips Tango's swollen red cock into her mouth and gives him a superb workout. She's putting that tongue piercing to very good use, teasing the dog cock, coaxing the jizz out of him. And – most importantly – swallowing every drop. Yes, drinking down that precious nectar is a sure sign that a Lady is well-and-truly in that doggy zone…
Zumi returns for the second session, and more hard dog fucking. Tango gets straight to work, easing another fat knot into that yummy Russian flower. Zumi takes it much smoother this time, no major discomfort, with that dog cock locked up in Her sex as he spurts off inside Her.
Then back to more great sucking. The Lady really outdid Herself in this episode, Her dog sucking is on another level now. She's gotten used to the taste of juicy red dog cock, and the taste of his cream spraying into her mouth. She's teasing it with her lips and tongue, suckling on that tip, and drinking that nectar down superbly – looking into the camera while She is doing it, to make sure we are noticing Her great new skills. It's hard to not notice, really. She is doing a fantastic job. The perceptive among you might notice that Zumi had chosen a lipstick shade that matches the dog cock – I think they call that 'dog pecker red'. Given today's itinerary, what better shade could a Lady select? 🙂
At the end of the second suck session, Zumi is quite delighted at Her performance. We can't blame the Lady, it really is a superb performance, leaving Zumi overflowing with dog juice at both ends. She's dog fucking with the big girls now. Like a sexy candy cane, now Zumi has 'pet pleasure' written all the way through. Great work from Dachat too, it's very nicely shot as always, and he has done a great job teaching Zumi and shaping her into a first-rate Pet Model. Top marks to everyone involved – even Tango gave it his all!
So, a splash of Russian doggy yumminess just in time for Christmas. Go on – treat yourself, and enjoy horny Zumi as She takes Her sex with dogs to a new level. Merry Christmas 🙂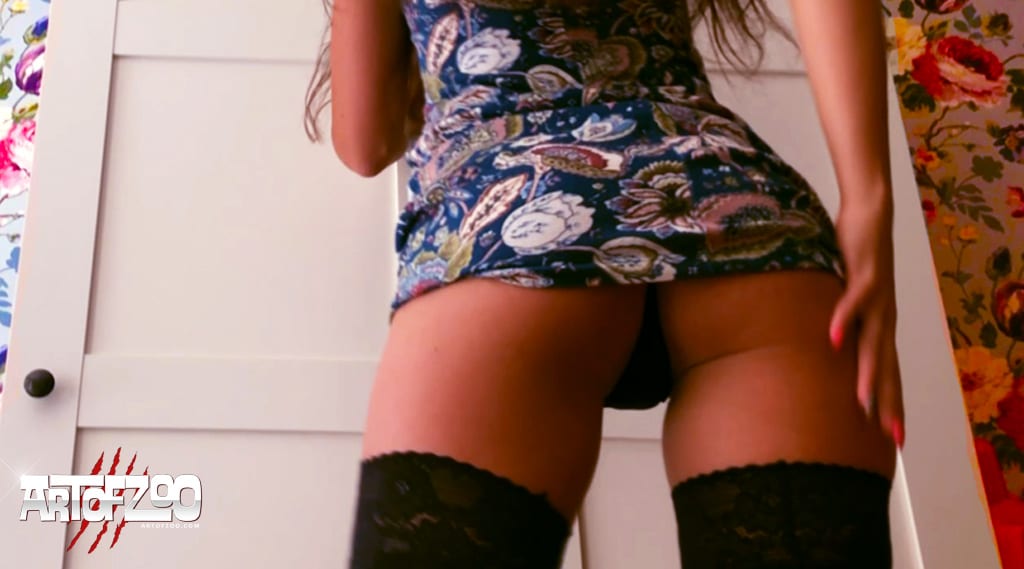 ---