So, having discovered...
a hot Pet Pussy she never knew she had, in her first animal sex movie "Try Mine", Zumi is keen to swan-dive into dog fucking with joyous abandon. For Pet Ladies, dog sex is their own personal Secret Garden of delights. A place they are keen to explore, top to bottom. After all – what's the point of having a great Pet Pussy if you're not going to put her to very good use?
If you go down to the woods today, you may get a nice surprise. With streets still slightly desolate from quarantine, Zumi, DaChat, and co. have found a little nook wherein they can do their thing. Interesting to note that, despite the brutal concrete surroundings, Mother Nature will creep into every available cranny with her splash of beauty. And today, Tango plans to splash some beauty into Zumi's sweet cranny. Good boy!
While hunting around for a place to play, Zumi finds herself getting hornier by the second. Thoughts of pleasures to cum, no doubt. Unable to wait a moment longer, the Lady breaks out that cute little flower and proceeds to warm her up with a cucumber. If the cucumber is 1 vegetable – and I am the other – then Zumi is only short of a serving of meat, to complete her meat-and-2-veg platter. Tango has doggy meat by the cockload, and his canine kitchen is open for business…
Should you be one of the very many unfortunate bastards without a home, living rough here and there, there is at least 1 silver lining. That is, should you happen to be sleeping in some tucked-away corner of this particular derelict building on this particular day, you might get to see lovely Zumi getting fucked by a dog. That is where the crew is shooting today, the rough gritty backdrop is a nice contrast to Zumi's soft rosy flesh. The graffiti, and of course the dog sex, reminding us that no matter how shit things get – we will always find ways to express ourselves, and do our utmost to inject whatever beauty we can, into life…
Zumi certainly hasn't lost her touch, since her first dog fucking session. Tango slips into the Lady's Pet Pussy like a foot into a glass slipper – a perfect fit. Her pet Prince Charming gets to work romancing the Lady the right way, getting off hard as he pumps that pussy over, and over. We can't blame the chap – when it comes to flowers, Zumi's is delightful, and lucky bastard Tango leaves us Pet Guys a touch envious…
It doesn't take long for all that pumping to work its magic, and Tango's knot is locked up inside the Lady. Pumped with dog cock, now it's time for that vagina to receive a heavy pumping with dog sperm. Squirt after squirt shoots up inside Zumi's sex, as she works the joy out of him and waits patiently as our Hero empties his balls into her. That flower really is tailor-made for getting that dog juice –  Zumi's petskills are coming on in leaps and bounds…
Following the hard pumping, and a womb full of dog cum, Tango is left with a big hard red rocket. Zumi knows the drill – the dog sperm belongs inside her. So, the Lady gets to work pleasuring Tango's throbbing cock with her mouth – working it with her lips and tongue, and worshipping the dog cock as only a Pet Lady can. Marvelous…
A short lunch break, and the Lady is ready for more. So is Tango. The crew slips back to the location for more heavy canine romance. Another hard mount ensues – Zumi is really feeling it, she's quite vocal as the dog cock slices in and out of her soft wet slit, and his knot starts to lock up inside her. Another nice smooth mount, Zumi is really learning to take a dog like a pro Pet Girl…
The movie wraps up with a short interview with Zumi – the Lady fills us in while sitting there still leaking dog cum post-mating. Great to see Zumi is really getting into dog fucking, she's a natural. Here's hoping for tons more dog sperm in that nice Pet Pussy in the future… in the meantime enjoy Zumi – and Tango, as he pumps it! 🙂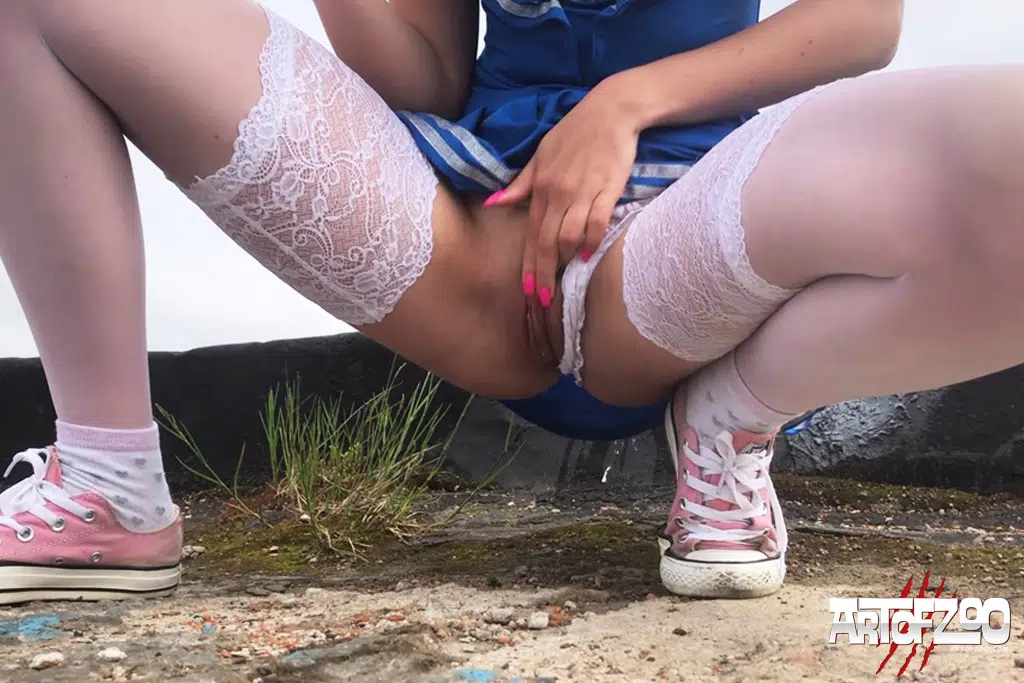 ---