Doggy-Rock the Lady's World!
Ah, Lady Portugal beckons again. Portugal is a groovy place. Walking through some back alley up Rua da Alfândega with Hans Burger BFI and some biz associates, a nice Portuguese Lady flung her windows open and shook out her shirt into the street, naked. A Kodac moment. They all missed it but I didn't. Marvelous. They don't do grey paving slabs in Portugal. It's all creamy marble mosaic pavements done by hand. Nightmare to walk on, but man. In Portugal, things speed down, but when they do it, they do it right…
We had some great times there. Trying to make porn with The Pope in it (yes the real The Pope not some other fella in a frock and hat), Obama's Men in Black trying to intimidate our Stray in our tower block elevator before I had a chance to get out there and accompany them back down in said elevator the slippery Devils. Man, it's a far-out place…
Most importantly of course – us Pet People are perfectly normal individuals, in Portugal. I could take Elvis out for a piss, pop over to the old Lady selling newspapers and cigarettes from a booth on Luis Bivar and buy one of the various newspapers hanging up there with quite visible images of some Lady sucking a dog's cock. Few of you were smart enough to visit us in Portugal when the offer was there. Let us hope that, if Lady Portugal beckons once more, many of you will be less not smart eh 😉
Coz I have a feeling things about to warm up again, in sunny Portugal. Starting with our new Portuguese Ron Jeremy, Senor Jacobo – his boy Simba – and of course, the lovely, Muito Linda Portuguese meninha Donna. Elvis had no complaints about that sweet Portuguese Pet Pussy, he fair could not get enough. Had more Lady friends there than I did the fucker…
So, it's the Senor's first movie so we'll forgive a little free-flying 🙂 It starts out with Snr. J introducing Simba to the lovely Donna, for a little afternoon delight. A 3-way with doggy, the Senor is quick to sample this Lady's delights. We don't usually put out movies with dudes involved, but hey some of you have asked for it. So here you have it. If I didn't put more screens of the 3-way, well, you know 🙂 It's just your typical boy meets girl meets boys dog lovegame story. Ms. Donna is suitably accommodating, the Lady simply enjoys enjoying the disco stick…
Of course, when the Senor has warmed the linda moça up a little, it's Simba's time to shine. And my goodness he is keen. A big strong stud this one, ready to rock the Lady's world. Donna slips effortlessly into Werewolf mode, and it's on. Wiggling that marble-smooth glistening ass at us as a little reminder of why those doggies heart those Ladies so much…
Donna has that perky Portuguese submissive dominance thing those Portuguese Ladies do. The Portuguese flower doesn't open so readily as others; but when She opens, She knows quite what to do. Ms. Donna does doggybitch like a natural, Simba sailing in and further into the Lady – even doggy is surprised at how quite Pet this nice Pussy is. He's all like 'that thing is the best thing eva and so scrummy I want to eat her all up'…
Not literally, of course, he's not some kind of animal. Content to num num num at that yummy flower, tasting his nectar flowing out of his freshly mated mate. Everyone is a bit new, so no clear decisive knot – I expect there will be shortly with a little more practice. I'm sure we all want the Lady to complete Her training? She is just getting started, but the look of 'ooo' on her face as that big fat dog cock slips out of her temple, suggests the Lady is suitably impressed by that doggy experience. That hit the spot 😉
Then, if you're going to experiment with dog sex, you're going to want to return the favor. Donna gets her first taste of juicy dog dick, and yes I think the Lady likes it 🙂 She sweetly works that swollen mojo with enthusiasm, I don't expect it will be the last time.
Yes, a lot of potential from our new Portugal Crew – and I understand the Lady already has some friends interested to join the fun. So u know what to do – support new Producers, and get on and enjoy the lovely Donna. Coz Meu Deus, Simba certainly did 😉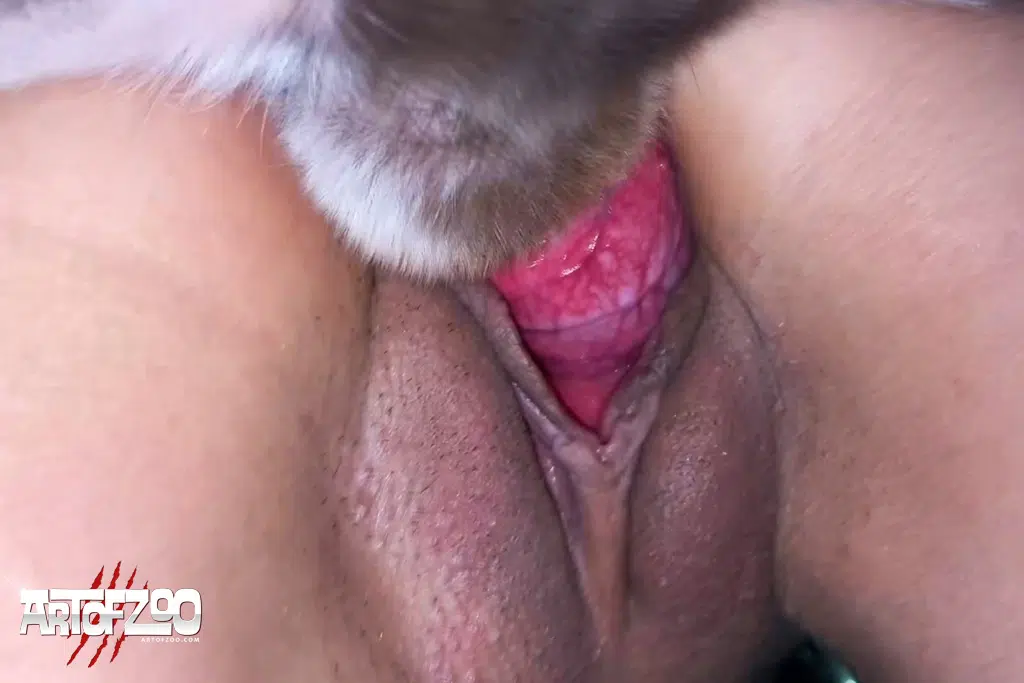 ---