"…between a girl and her pet"
Another trip down memory lane, and another blog post from our past archive. Petlover was one of the first movies we ever released, this would've been around 2000 or 2001. Shot over 1 week, session by session, on a very low-quality $5 webcam. It's crazy to look at those early movies now, I think the resolution on this movie is 720×480. We did not even need masks back then. The picture quality is appalling. but the dog sex action is great. Katarina was hot, much hotter than you can see in the movie. Great curves, spectacular boobs, and a pussy just made for dogs.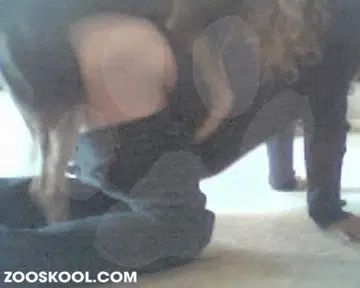 A friend of Katarina's had bought her a dog, specifically so he could fuck the Lady. What a nice friend that chap was, sensible too. The Lady did not disappoint, she was mating with her boy long before she started shooting clips for us. Her boy was a dober-rottie – an excellent breed for dog sex; the slim build and intelligence of a Doberman, the pure aggression and sexual drive of a Rottie. That dog really knew how to roll.
The Lady started learning how to knot during the first few video sessions. Her boy planted a peach of a knot in her pussy – unfortunately, he yanked it out and the Lady sustained a slight injury downstairs. That is quite a common issue for Ladies learning to knot the first few times. It took a couple of weeks to heal, then Kat was back in action.
I have not spoken with Kat for many years, I like to think she is still out there somewhere taking care of horny dogs in her special way. If you are out there Lady do drop us a line.
KATARINA'S PAGE FROM ZOOSKOOL
If ever there was living proof that normal, attractive females enjoy a little extra-curricular dog sex, then here she is. Kat is a girl that gets her dog in a whirl.
She's a very cute Scandinavian-American girl – he's an aggressive and demanding rottweiler mixture. He demands, so she has a little something special to pacify him. And a world of pleasure for herself, by her own admission.
"It all started in my teens, I had a friend's dog jump on me and have his way, I was embarrassed but very turned on! It was a slumber party and in the night I had gotten up to use the washroom, the collie had followed me to the bathroom and was a very "excited" boy, he started to jump on my leg, and have his way from that moment on the thought of it turned me on.
Although I was too young to understand my feelings for dogs, later in life I found myself very turned on watching animal sex movies, and it really excited me and turned me on. I would be soaking wet after seeing a video, and when I'd have sex I'd fantasize about having sex with pets rather than humans.
Sometime later I met a good friend who helped me "explore" that side, I had to get some help because my dog was very strong and very aggressive, and I was so nervous. We got through it and wow it was amazing, and let me say this NOTHING makes me more horny than fucking a dog.
The thought of all that hot wet doggie jizz drives me insane and I can't wait for the next time we do it again and again, sometimes I can't wait to get home just so he can hump my pussy. He fills me up with his "love potion" and when I stand up it runs down my leg like a waterfall. It's such a wonderful feeling. For all you wondering if you should try it, I must say definitely YESSSS!!!!!"
ORIGINAL SYNOPSIS
Is sultry Kat woman enough to satisfy her macho dog? Apparently, she is… A wonderful little amateur production from a real-life petlover. Introducing Katarina, a Swedish girl who lived in Italy before moving to California as a young pup – quite a mixture.
Maybe the cross-pollination of nationalities has given Kat her interest in cross-pollinating with her pet. A great figure, combined with a passion and affection for her dog that is self-evident. This is a great example of how sex with dogs can become a beautiful and exciting lifestyle choice.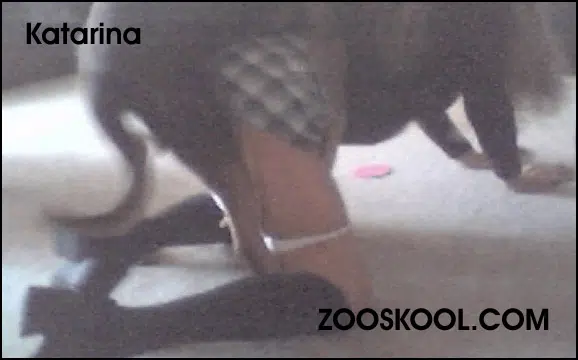 I think this movie will be a big hit with the lady petlovers out there. It's sexual, erotic and tender at the same time. In this video, you will see her kissing her dog, you'll see her pet foreplay and this isn't just filler foreplay, you will be aroused at the chemistry going on. She coos, flirts, and giggles with him, before giving him the thing he is aching for. She shows us how her dog takes her before she goes to work in her office, with panties wet with doggy cum under her skirt.
Kat's dog is very strong, and although she's been loving him for a while, he is hard to control when trying to tie with her. Inevitably he pulls out and by her own admission she is "quite tight, and it hurts". A little background a few days before making this movie, she'd tied quite tightly and he'd hurt her so she was recuperating, hence her reluctance to avoid being tied.
She does tie though, as any knowledgeable petlover can see – you'll hear her exclaim "shit!" on more than one occasion. You'll love this movie. I do.
---