The Animal Porn Revolution Will Not Be Televised
It Can't Be Easy...
…squeezing that much sexy into such a small package. What is particularly attractive about Nana is her effortless loveliness. She is not perfectly shaved. Her hair is not perfectly styled. But my God. A pair of heels and a splash of makeup is all this Lady needs. Those big wolfish eyes, that perfectly sculpted body – they speak for themselves.
So. On one hand, you have citizens in lockdown – forbidden to leave home unless it's absolutely vital. On the other hand, what could be more vital than a throbbing doggy cock? When a Lady is stuck at home, and that mating urge washes over her, Protocol Z comes into effect. That being, when a Lady craves sex with a dog – when only sex with a dog will quench her thirst – a Lady just gotta have it. Nothing can stand in her way. An animal porn afternoon should take the edge off. A quick call to Dachat, and it's on. Time to sneak out…
Nana slips past the guards and arrives at her rendezvous with Rover. Nana wastes no time, stripping down and teasing us with that divine body. We can look but we can't touch – much as we would like to. Today that divine body is for pets only…
Nana oozes sexuality, her past experience with dog sex has given her a confidence that is quite compelling. Her seductive moves leave Tango hypnotized.
Tango has the look of someone who won the lottery twice in a week, with a grin he can't shake. He is thrilled the Lady could make it, it's been a while since his last animal porn shoot with Nikita. He is naturally a bit eager, but Nana looks like a Lady who might take his blues away. Any doggy would develop feelings for a Lady like that…
Caught up in romance and passion, Nana offers herself to Tango. A thrust and a wiggle, and the couple connect in love. This is what the Lady came for. Her wetness pays off, her aching for dog sex dissipates as she feels Tango's cock slipping up into her. She feels him throbbing as his cock responds to her soft warm femininity. Nana has clearly missed dog fucking as much as Tango. There is no better feeling for a Lady than a hot and hard fuck with a dog who REALLY wants it…
Nana knows how to do this. A hard deep mount quickly becomes a hard deep tie. What was new and slightly outlandish not so long ago, has become part of this Lady's world. Having sex with a dog, the dog's penis swelling up and knotting her vagina. Taking dogs in love is much a part of her now, as Tango's knot is during this tie scene…
Nana's talents are more than just decorative – that bod may speak for itself, but so does the BIG load of dog cum pouring out of the Lady's vagina when the mating is over. That big load is a testament to Nana's womanly skills in dog sex. For a horny hound, Nana's yummy Pet Pussy is just the thing.
Clearly, Nana was not the only one aching for love this afternoon. Tango's heavy balls are considerably less heavy after injecting that heavy doggy load into Nana's very tempting vagina…
Their mating complete, Nana shows her appreciation to Tango by working his still-erect cock with her mouth. This Lady's dances with dogs are quite something to behold – Nana dances with every fiber of her being.
Protocol Z has been adhered to, Nana's mission is complete. She relaxes with Tango for a while, letting the dog sex afterglow wash over her. She can taste Tango's cum in her mouth. She can feel it, still wet on her vagina. Tango's love is in her. It's what she came for, and she is taking it home with her. Let's hope it's enough to keep her buzzing until her next dog sex session…
This volume is a bit less frilly Gang – no wandering around malls here, everyone is supposed to be shut in at home. Russian authorities can be a bit heavy-handed, and sadly making animal porn is probably not on the 'acceptable reasons' list. So everyone needs to be extra careful.
It's still a lovely movie without the frills. It has all the necessary bits – it reminds me a bit of Simply Simone from our early Zooskool movies. Nana is delicious as always. Kudos to Dachat, for continuing despite all the obstacles. Keeping on regardless is how we do.
Also thanks to everyone for continuing to support the movies and ArtOfZoo during these trying times. I know some of you are a bit short on funds, so as always your help is appreciated. If the Covid stuff is getting you down, a splash of Nana having sweet sex with a dog will almost certainly brighten your day. You know what to do – have fun 🙂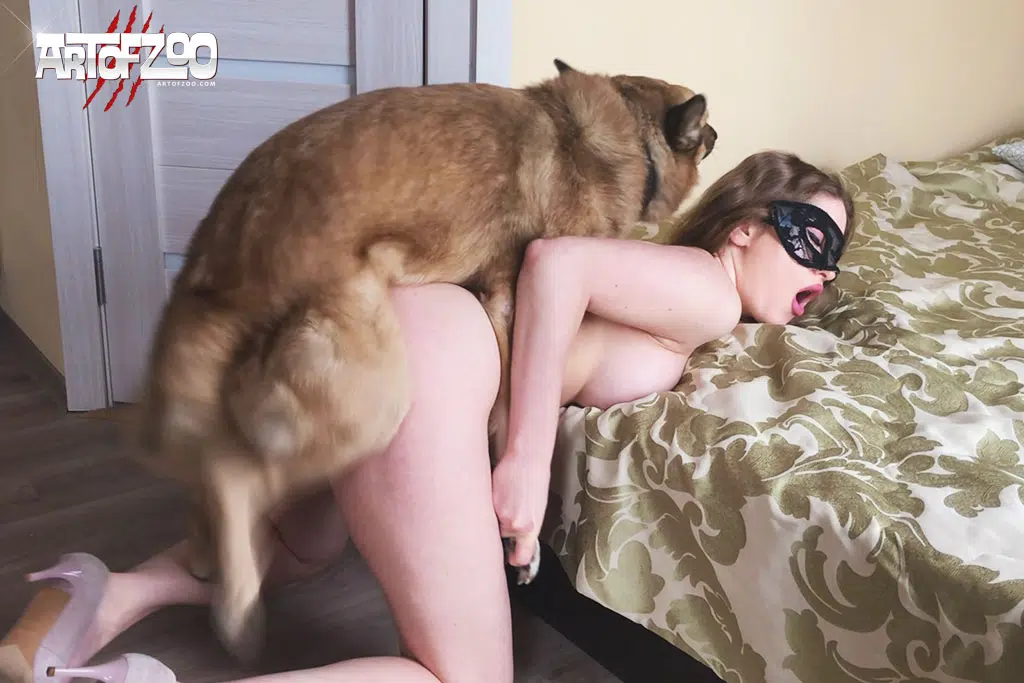 ---