Isn't He... Pretty, in Pink?
Pink is now Mating, and Mated
Introducing Pink – another Magical Lady from Mother Russia, interested in dog fucking. Well, a Pet-Lady in the making. A petlove journey of 1000 miles, begins with a single mating 🙂
Pink is quite delicious. A Doggy Girl dream come true, as all our Ladies are. With her long pink locks, and those physical lines, Architected by Mother Nature Herself. Today, this Divine specimen is here, to offer her Treasures, to the dog. Today, Pink is here to experience the experience of being mated, by a dog. Doggy is ready. The Lady is ready. Are you ready?
The movie begins, with Pink (and Co.) at the ocean shore. Gazing off into the almost infinite horizon. The wetness, lapping at her feet. Almost a metaphor, for the boundless love a Pet Lady has, for dogs. And the wetness – plenty of that, yet to come.
A little pissing action here, for the pee fans 🙂
Business time, Pink is here to play. This Lady, makes absolutely sure we are all 101% completely and fully aware, of what kinda power She got. Yes, Pink Power. Pink, it seems – regardless of what shade a Lady may be – is the colour of her inner love. Pink is throbbing pink, pink for the dog, channeling her pink, @ you, so be careful. That is some powerful pink.
The Lady speaks to her pink, with a pink plastic cock. As if to say, don't worry, don't panic. Just a small change, today. That's all. Remember? That flower is designed to receive. And to pleasure, to stimulate, and draw life into Her. Warmed, and primed, it's time…
Despite demonstrating that the Lady Flower is as resilient, as she is delicate – despite Tango's dog cock, being considerably smaller than that big dildo – Pink is taking her initiation quite hard. Well – there is more to dog cock, than just any old cock. It's that moment of transition in a Lady's life. It's that moment, her pussy transforms into a Pet Pussy. A vagina, that's been taken, and enjoyed, by a dog. The moment the dog penetrates Her, there is no going back.
There is no undo button, on this. From this moment, until the end of time, that pussy has been – and remains – dog property. It's a commitment. Some Ladies, have a powerful urge to make this commitment. For others, it's a little scary – at first. Like any Bride, on her wedding day. But Ladies, are not weak. And so, any hint of fear, invariably gives way to her natural feminine receptivity. Her petals open, her body moistens ready to accept the penetration. And, Rover slides his sex, into Hers. And that Magical union, begins…
Yes, lovely Pink is now mating, and mated. Lucky Tango works that sweet pussy; the Lady's vagina works her charms in response. Her soft, warm, wet walls engulf that red cock as he slips rapidly in, and out. Coaxing the seed from his balls, and up inside her, where it belongs.
Some of that nectar, trickles out, in creamy rivulets, across her abdomen. But these few drops outside her abdomen, are nothing compared with the dog seed that is now flowing deeply INTO her abdomen. Pink is now tied with Tango. Locked up, as he injects his canine love – into her vagina, into her womb – into her soul. That dog cock, looks very, very pretty, in Pink.
The scariest part out of the way, Pink relaxes, now She realizes that a dog cock is nothing to be afraid of. His cock, still glistening with her wetness, the Lady takes that cock into her mouth. It looks good in her mouth. It would look good, anywhere inside this Lady. Or, any Lady.
Unless you are colour blind, you may notice that the Lady's pink hair, and pink lips, are a perfect match for dog-cock pink. Our new Starlet is not just sucking the dog cock; she is showing US – with some amount of pride and delight, that SHE. IS. SUCKING. the dog cock. Succulent. She knows, that we love to see those lips wrapped around that veiny canine shaft. Not quite ready to drink those juices yet – but, first time and all. Seems this Lady has found a natural calling. That lucky, lucky doggy…
Session 2. Pink, has had time for 'The Change' to settle in. To bed down. Yes, She is a Lady who fucks dogs. Yes, she is OK with that. Yes, please may She have some more? Certainly Lady. This, is a much more relaxed Pink. A Pink, far more in control of the situation. She knows how this works.
She knows how it will feel. She knows that her vagina will accept the dog cock, quite naturally, smoothly, and with great pleasure. She is ready for him. He, is ready to do the Lady. Gazing over her shoulder, seductively, as he takes Her. Man, do we ever love those Pet Ladies, or wot? Venus, with fur, one and all…
Yeah, this Lady is a natural. Who knew what it would feel like, to have an electric Pet Pussy? Who knew, that pussy would fit a dog so very nicely? The Lady knows now. My eyes are pink, staring at the loveliness on the screen. God Damn that Pink is some kinda WundaBitch. You'll see what I mean. I very much hope we see more of this Lady, in the future…
So Gang. ILZ reckons the movie is a little light on action. I dunno. 2 doggy fucks, 2 ties. Beautiful Lady. Beautiful everything. Still, we'll call it a 'plague discount', this movie is going out a bit less expensive than usual. Coz well, you know. Personally, I think it's a lovely movie. Another sweet Pet Star is born. Her dog love, thrust into the ether, for all eternity. So Folks – think, before you Pink. Because you never know what delights are around the corner. Enjoy 😉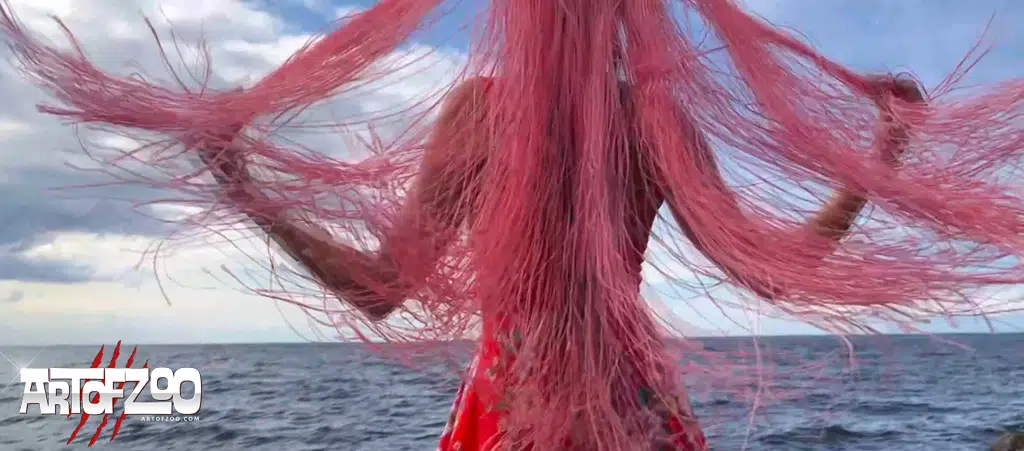 ---