Sometimes A Session
…doesn't pan out quite right, and we end up with unreleased material. Maybe the Model gets a boyfriend, maybe we have to move before the second session. Anything can happen in this biz.
Thing is, some of this unreleased material is quite nice. This is a session with Honey and Bullseye, just meeting and getting to know each other…
Relationships can be hard at the best of times. For example, that pesky relationship between a relatively new Pet Lady, and a relatively new stud. Honey learned her doggystyle with Animal, who was very experienced and always a true pro. He made it seem easy. Bullseye is VERY keen to play with this Lady, at one point he hurls himself at her in a flurry of humps. I'm sure we've all been there. Too keen is not very smooth, and he is having trouble doing his thing. His rookie approach is giving poor Honey a hard time with his claws, and you can tell the Lady does not like to be manhandled (doghandled?) if he ain't delivering on the doggy dick…
Fortunately for Bullseye, there is something of the Matriarch about Honey. At which point it occurs to me the Lady reminds me a bit of Jennifer Aniston – could it be? Based on a true story. 😉 Well anyway, Honey takes a deep breath and takes it all in stride. She whispers quietly to Bullseye, reassuring him. Yes, she knows he is nervous – just be calm, and let her show him how. Honey gives him a little kiss to show she forgives him….
The pep talk and the peck on the nose were just what Bullseye needed to hear. When he mounts this time, he means to satisfy. And when the couple finally click, the mount is strong. Bullseye is clutching hungrily at those hips, and Honey's Pet Pussy is everything he'd hoped she would be…
You folks apparently quite like this Lady, and it's easy to see why. Pocket Venus Honey, with that sweet innocent face and cascade of long blonde hair, sitting atop that hot bod – yes I quite like Honey too 😉 We don't need to ask how Bullseye feels about the Lady – after all "Love Is… pumping your dog sperm into a Lady's vagina". It's the kind of love we can relate to…
Content at finally being successfully mated, Honey takes Bullseye's erect cock and tends to it with her mouth. It's not the dog cock the Lady is used to, but it's growing on her. Honey gives him a good going over.
Honey got a bit scratched up during this movie, it was a bit hard going for her. But the Lady is a pro too – she is there to put those fab doggy buns to good use, and that is exactly what she does…
The Honey scene has a good strong mount but is missing a few important shots, and sadly no knot. It leaves the movie a bit short, and short on action. Still, Pet Lady Honey is very easy on the eye and hard to resist. For those who may be left hankering for some hard slamming action – we've added a couple of minutes bonus scene at the end. This is a casting shoot with Animal and an Asian Lady we did not end up working further with. Shame, because for a casting shoot the Lady took a real hard mount from Animal. Hopefully, that will sate your desire for hard undershot.
As I said Gang, a bit cheaper this week, but the Honey is still as sweet. Enjoy Kiss Me Honey + short Asian bonus 🙂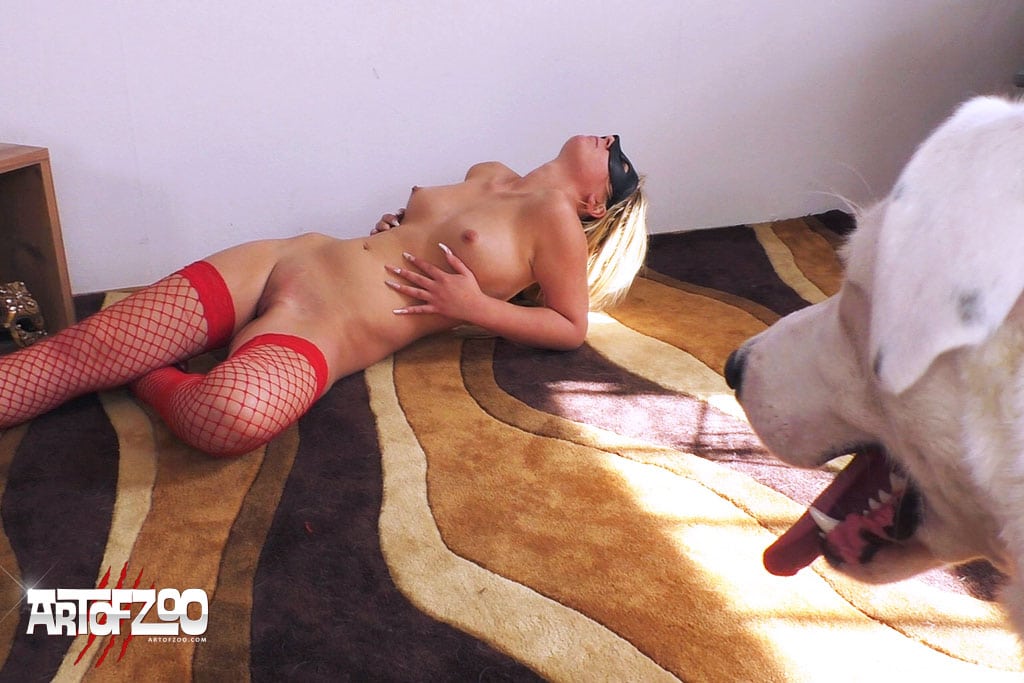 ---