THIS PROJECT IS NOW CLOSED FOR NEW MOGULS. IF YOU WOULD LIKE TO BE A MOGUL ON ANY FUTURE PROJECTS, PLEASE READ THE MOGUL DETAILS HERE. MANY THANKS TO ALL OUR FIRST MOGULS FOR SUPPORTING THIS PROJECT, YOUR SUPPORT IS APPRECIATED! 🙂
Hi Moguls 🙂
this is the first project on the table. Introducing the very lovely DogWoman. This magnificent young Pet Girl is about 7 feet tall in heels, very attractive and elegant with some real 'wow' factor. She is also a genuine 100% real Pet Girl – we'll interview the Lady shortly for more info about that.
We already had the opportunity to shoot with this Lady and our new boy Bullseye, and its a great movie. However, Ms DogWoman is a Pet Lady with a thirst and looking to take it to the next level. We have organized a longer session of a few days, with more dogs, to attempt to satisfy the Lady. And with luck, get some fantastic footage in the process – the DogWoman MegaShoot. This Lady with a bunch of dogs should be amazing 🙂
This Lady really is quite something, during the shoot I was having a very hard time not swan-diving into her red panties.
There are a bunch of logistics costs involved with this project, and some Mogul magic would be appreciated.
As an extra bonus on this project, on top of the usual Mogul stuff we'll chuck in the photoset from the first movie which will go nicely in any collection.
I will contact all Moguls on our list and make sure everyone is up to speed. If you would like to be a Mogul on this project please contact Support. Please make sure you have read and understood the Mogul details here.
Thanks Gang, let's make it happen 🙂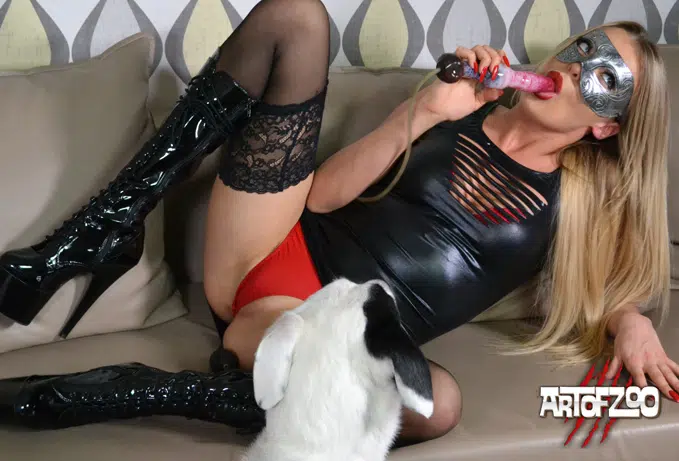 ---