"Why is a Raven like a writing desk?" the Mad Hatter asked. Both are splashed with ink, and necessitate a certain amount of wood, perhaps? Who can say? All I can say is wow, what a Lady.
ILZ first met with Raven whilst in Europe. As mentioned in the Raven's Quest Project outline, we missed getting a movie with the Lady back then by a mere 1 day. Miss by an inch, miss by a mile. The photosets ILZ took caused a bit of a stir with our Members. Fortunately, for reasons I will mention shortly, Raven reappeared and was still interested. Unfortunately, we were far far away by that time. Fortunately, we have our Moguls. And that makes all the difference.

FIRST ENCOUNTER
I had not yet met Raven – we were meeting her on the roof bar of a tower hotel in the city. I was sitting in the lobby waiting for ILZ when I spotted a Lady. Actually, what first drew my attention was the buzz. The hotel chaps were gathered around someone, being overly attentive and helpful, as chaps can be. Through the crowd of dribbling bellboys walked a Lady.
At first glance, all I saw was 'wow'. Then I noticed it was Raven. Elegantly attired in a sheer black cocktail dress and heels, even at a distance, the Lady had presence. She was getting into an elevator and I was on the other side of the lobby. Quick as a flash, I teleported to the elevator just in time to shove my hand in the door.
Traveling up in the elevator alone with the Lady, I waited a moment. Then turned suddenly to her and said 'You must be R?' with a big grin. Poor Raven nearly fell over. Aren't I a meany? I quickly clarified who I was, the crazy Honeymonster surprise is only funny up to a point. Apologies Lady, if you happen to be reading this 🙂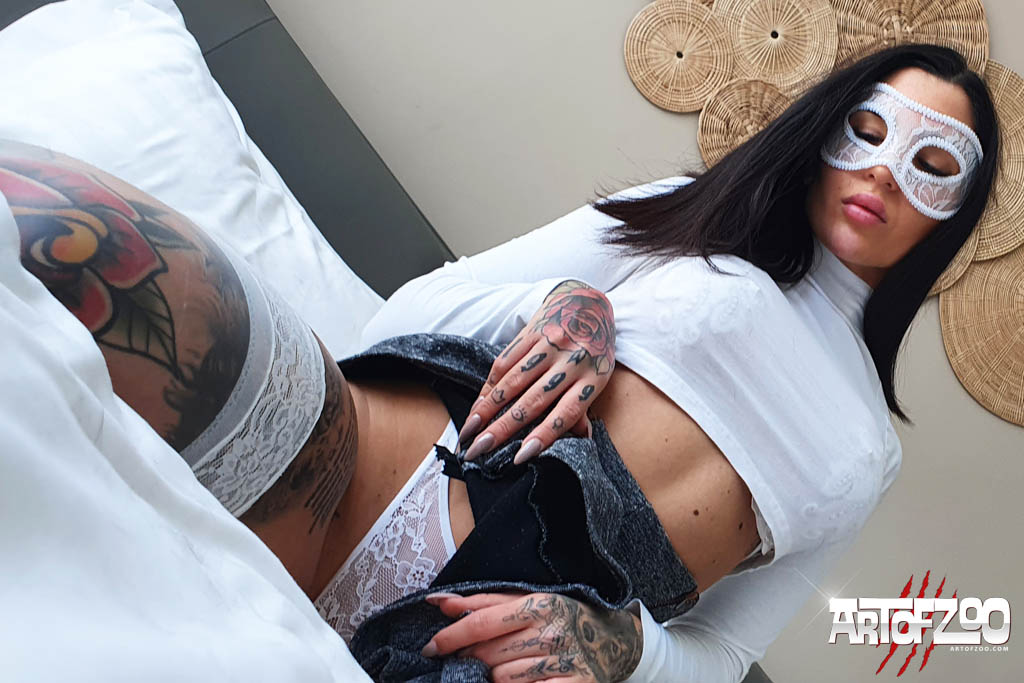 We stepped out onto the roof garden. It wasn't busy. Still, that hush as every eye in the place was on Raven. I haven't seen a Lady hold a room like that since Cupcake was here. ILZ arrived, we ordered drinks and had a little chat.
With her jet-black hair and deep dark eyes, the Lady was even more beautiful in person than in her photos. She wasn't stuck up or conceited in any way, in fact, she was an extremely sweet and charming young Lady. When talking, she'd look you straight in the eye, honest and genuine. And such an intrepid Lady too, considering she'd flown all this way to the jungle to love our boys. ILZ said she was a joy to work with, easygoing, and relaxed. Whomsoever ends up with this Lady on his arm is a lucky man indeed.
I asked Raven if her mom is as beautiful as she? I was crestfallen to find out that even her mom is younger than me. Fuck did I feel old. Still, you gotta have a plan right? 🙂

ORIGIN STORY
Apparently, when first hearing about sex with dogs, Raven's first instinct was 'that's sick!' It's not the first time I've heard that from a Lady who ultimately turns petwards. Something to keep in mind for all you budding Pet Chaps out there. Offers to have sex with a dog are generally not something a Lady hears every day. Responses may vary. The first instinct is often 'run away run away'.
But, for those Wild at Heart Ladies (Gents too), pet love has a tendency to grow on you. And grow, and grow. Until before you know it, curiosity kicks in and it becomes a turn-on. Case in point – by the time we met, Raven had already been with Bullseye and ILZ said she had done an amazing job with him.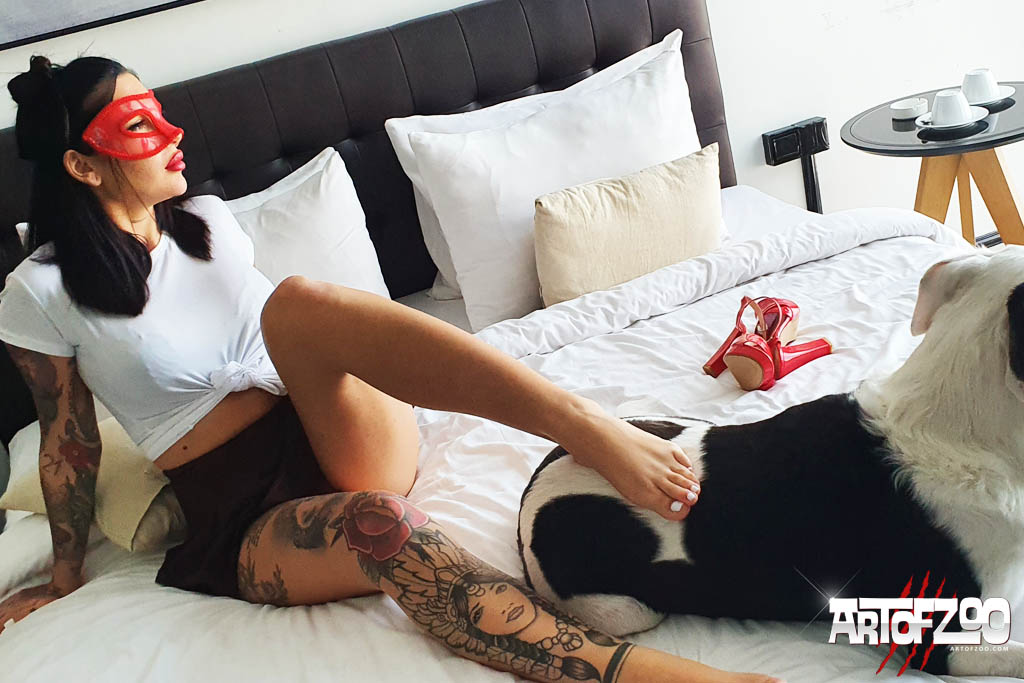 Raven revealed that, around 8 years old, she would play with all the neighborhood dogs. She loved dogs and had a lot of contact with them. Apparently, it was quite common for the male strays to stick their noses in her crotch, or try to hump her – but being so young and innocent, she had no idea what they were doing.
Very happy to report that that is no longer the case. Hell, Raven has 2 dog tattoos – plus, in the clips I've seen so far and how well this Lady handles an amorous hound with no experience whatsoever – it seems clear that doggy had been this Lady's destiny for some time.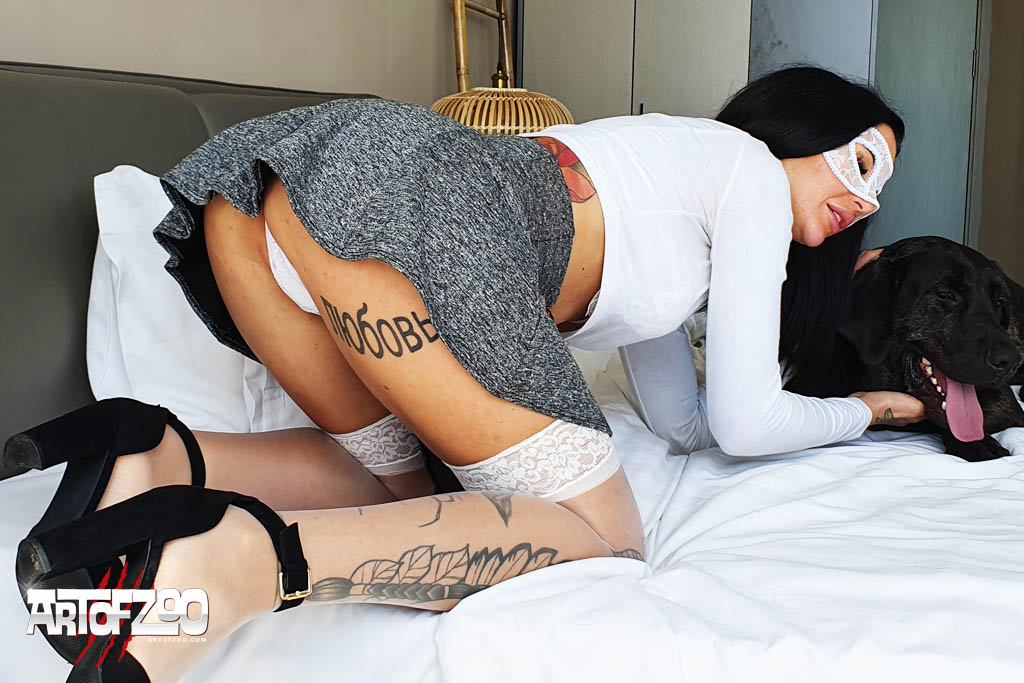 Legend has it, that if the ravens ever leave the Tower of London, the Kingdom will crumble into dust. I can empathize. If I had a heart, it would most likely be all a flutter. The Lady has already expressed an interest in working with us again, so who knows? Maybe a few of you lucky Moguls will get to meet this Lady also. Yes Gang, this Lady is quite special, you have been warned 😉
Huge thanks to Raven for being fabulous. Great work by ILZ – his first major project run basically all on his own and he did an amazing job as you can see. And of course, huge thanks to all our Moguls because without you, none of this could have happened. Superb work everyone. As Mogul Projects go, we will have a difficult time topping this one. I'm confident that won't stop us from trying, however – in the meantime, do enjoy the very jaw-dropping Raven 🙂
---