Heaven is Missing an Angel
Angels come from Heaven!
The ancient Bible texts are quite right when they say "every good and perfect gift is from above". This film is the best proof of that. Not only the rain and the sunlight, which make life on earth possible, come from above, but also the heavenly joys that angelic beings bring us into our life on earth. Heaven be blessed for your rich gifts!
Our Nana here is such an angelic being. With her long hair, her mysterious eyes and slender figure, she is truly heaven sent. And appropriately to this celestial origin, she travels through the air to her next date with Tango
Once she has landed, she can hardly wait to snuggle into the soft fur of our male dog and bury her fingers in his neck. She already has the opportunity to do so in the taxi from the airport. Stroking dogs always feels like grabbing a little piece of heaven, doesn't it. The soft fur inspires Nana to let her hand wander under her skirt while in the back seat to compare what feels softer: Tango freshly brushed fur or her freshly shaved vulva. That is almost impossible to decide
Before our angel can indulge in the earthly joys, she still has a mission to fulfill. There are just so many people who have not yet experienced the heavenly message of making love to animals. And so Nana sets out to proclaim and spread the true doctrine of dog love in a shopping mall. Dressed up nicely in a green leather skirt with a white t-shirt she teases us as well as all the by passers by showing off her bare lower body which she has tastefully decorated with the AOZ logo. The lady even pleasures herself with a dildo in front of half the shoppers in the mall. She obviously likes the idea of getting the message across. And some of the other ladies look over at her with great interest. There are your new disciples, Nana. Well done.
After this strenuous but worthwhile day's work, it is time to relax a little in her own four walls and practice the religious art of animal love. Putting on a red royal robe she lets fall of the toil of persuading people to come over to the right side of society. Now it's time for her to spoil herself a bit with a doggy treat.
Pure and truthful, that is how it must be, the heavenly love that Nana wants to bestow on our lover with the four paws. And so that nothing can disturb the sacred connection between her lap and the tool of his love, so that the two bodies can fully feel each other – here her pale, perfectly formed body, there the furry and powerful dog's body – the disturbing clothes must first be removed.
But that too has to be done mindfully and consciously. Because the ritual in honor of love that Nana is about to begin must be celebrated in the right way in order to develop its full satisfying power. And so the angel leaves the leaves before our eyes while her four-legged lover excitedly brushes around her legs. Only when she is completely naked, as God created her (two deer twins among roses and so on), does she climb onto the bed to receive him and to worship the perfect form of love.
There is always something special when a woman surrenders to the love of a dog completely unclothed. No protective clothes that can keep her from scratches of passion. So she wears the marks of union between woman and animal on her body for some time like medals of a secret society. Nana learned this before in Protocol Z. She got a taste for it. And so do we.
She kneels on pure white sheets to give her four-legged companion the best possible access to her pleasure center. And Tango needs only seconds to make her sing in the angels choir as he hammers his cock into her. Her moans sound like a fervently prayer to the God of Knots to give her what she's been longing for all day. The first knotting is short but intense. But who would want to blame the dog for being a bit frank on the first connections. He waited all day for this. Religious relief can be quite overwhelming sometimes.
The second mount takes much longer and is much smoother than the first one. Again his knot slips in quite easily into Nana's experience flower but this time it stays with her for some minute, delivering his share of divine white mana into her womb to seal the holy pact. To proof how much she got, and maybe to brag a little before all those other petlove angels out there Nana arches her back and pushes out quite an amount of the good stuff. Halleluja.
The diet in the heavenly realms must be excellent. You can read about nectar and ambrosia and the like. But then it's a bit monotonous again. Ambrosia every day. Nana might think, it should be a bit of a change. And so she closes her chaste angel lips around the red and pulsating shaft and begins to suck with relish. She keeps her eyes closed while she collects this completely different nectar. That way it tastes more intense. Salty and sweet and exciting. Richly gifted, she shows us the result of her efforts again before she audibly swallows. Fingerlicking good.
After they have build a whole world of lust and love it is now time to rest (and cuddle) just as god did on the seventh day. Such a beautiful picture of Nana's pale and spotless body with a beautiful canine next to her. She caresses her furry friend and gives him a kiss or two to show her appreciation for all his attention. But all this cuddling and kissing and petting makes our couple horny again all too soon. And so another nice but short round of humping and knotting finishes off this wonderful movie.
After all, Nana takes us on a very nice journey to the heavenly pastures of doglove in this movie. Everything you would expect from an AOZ-production and more you will find in here. I would suggest, you get your bitcoins ready ladies and gentleman to make a donation to the church of Nana for everyone needs his or her soul to be saved by the enlightening power of animal love. If you buy this movie, you do it for your own good.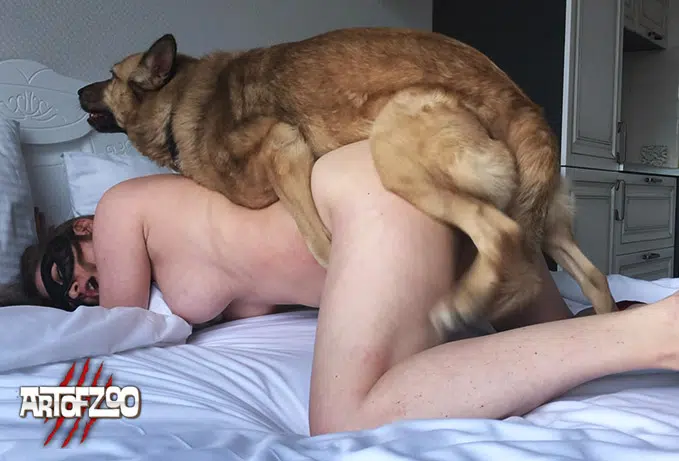 ---